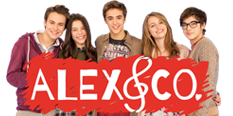 Alex and Co Games
🤔 What are Alex and Co Games?
If you came here looking for the best Alex and Co Games online, then you have come to the right place! Just look below and find all the great new Alex and Co Games on the internet, which are very fun to play!
Alex and Co Games
On Friv Games Today we are very happy to have created the Alex and Co Games 2016 category, which is the newest Disney Channel Games online category that our website offers you, where you have the chance to play some of the most incredible games that feature characters from this very new Disney Channel show that we absolutely love. Those of you who have already watched the show, we are sure that you have come here in order to play your favorite games with these characters, because you have already fallen in love with them. But, those of you who are here on the Alex and Co Games online page, and don't know very much about it, we invite you to have a look at this description, where all the info you need in order to play the great new Alex and Co Games on the website will be stored. The show, called Alex & Co is an Italian show, having premiered for the very first time on Disney Channel Italy on May 11 2015. Since then, there have been two seasons of the show created, and it has already started to be aried around all of Europe on the Disney Channels. The show focuses on five friends, and tells their life stories as they start attending their first year of high school. These five friends are: Alex Leoni, Emma Ferrari, Nicole De Ponte, Samuele Costa, and Christian Alessi. Alex is fifteen years old, is an inteligent boy, who is kind and always defends those who need him. At the beginning of the story, he falls in love with the beautiful Emma, who reciprocates his feelings, but as the series progresses, his relationship with another girl, Nicole, grows stronger. Emma is a very beautiful, and despite the fact that she seems to be very strong, she is not, because she needs the constant approval of those around her. She loves singing, and she togheter with Alex have come up with the ideea of forming a band. Nicole has been Alex's best friend for many years, but as the story progresses, she becomes more than a friend. She always tries to do what is right, and takes everything seriously. At first, she is shy to sing in public, despite her good voice, but in the future she gets over her fears. Samuele is a responsible boy, who is always studying very hard, and is trying to get into the best universities in the world, but because he doesn't have the necessary funds yet, he has many part-time jobs. Christian has also been Alex's best friends since they were children. He is always cheerful, friendly and nice, and being a jock, he is well-liked by many girls in the school. All of these wonderful characters will be found in the great free Alex and Co Games online that our website has to offer you! Since the show has just recently started airing, there are not many Alex and Co Games online for you to play, but those that you can find here, we invite you to play, as they are very fun and you will like them for sure!