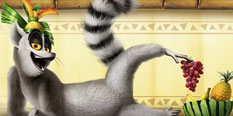 All Hail King Julien Games
🤔 What are All Hail King Julien Games?
Welcome to everyone in the All Hail King Julien Games, which is a category of Madagascar Games and Netflix Games we are positive you are going to love, since there are so many awesome games offered to you here, and missing even one of them would be quite a shame, trust us on that, since they are great!
All Hail King Julien Games
If you are fans of Penguins of Madagascar Games, then there is yet another awesome category of games you need to visit on our website, the All Hail King Julien Games category, which is a spin-off category based on the spin-off show of this series, which in turn was a spin-off television series of the Madagascar movies, about a bunch of animals from a New York Zoo that go on an adventure through the world. The four penguins in the movie got their own series, where they often times faced off with King Julien, the antagonist of the series, who despite being an antagonist, is very lovable, which is why we are not at all surprised that he has goten his own series, entitled All Hail King Julien, debuting on Netflix in 2014, with the sixth and final season having aired in 2017! Yes, there were six seasons of the show, proving that it was a really popular one, and in addition to it running on Netflix in the US, it is available for streaming in other places of the world as well, where it is also available on television channels, so we have no doubt at all that there is quite a market for these games, and lots of children wanting to play them. Well, we are very happy that we now have a category of All Hail King Julien Games here, because we want our website to be as complete and as diverse as possible, because that is why you have been visiting us for such a long time now, and always coming back for more! We have also played all of the games before adding them to our website, so we know for sure that if you play them, you can have a wonderful time doing so! Now, if you are already fans of the show, you might not even want to keep on reading this, but start playing the games at once, which we have no problem if you do, as we want you to have fun at once. This description is made more for those of you who are reading it because you know nothing of this show and characters, and would love to know more before you start playing online All Hail King Julien Games, as you believe that it is going to give you a better experience in playing them. We are going to begin now by telling you what the show is about, who are the main characters in it, and then we tell you what kinds of free All Hail King Julien Games you will be able to find and play on this page! Firstly, you need to know that the story of the show takes place before the events of the Madagascar films, making it a prequel, and it focuses on Julien, together with his sidekicks, Mort and Maurice. Julein, having ascended to the throne very young, because his uncle did not want to be king anymore, parties, has fun, and does not care about a thing in the world. He has to face off with others trying to get the throne for him, while continuing doing and putting in action all sorts of crazy plans and adventures, which happen together with all sorts of interesting characters in Madagascar. The jungle is very big, so there are new things for the characters to go trough all of the time. Of course, the events of the sixth season directly link up to the beginning of the first Madagascar movie. Considering that the show ran for such a long time, and so many things happened, we believe that children loved these stories, just like they are sure to love actually interacting with the characters, through online gaming. Some of the games on this page include King Julien Exiled, Dance Commander, Puzzle Party. You will find adventure games, dancing games, memory games, puzzle games, differences games, skill games, coloring games, and more, so we are sure that no matter what your tastes in online games are, you are bound to find some that you like almost immediately. Now that we have told you all that we wanted you to know regarding the All Hail King Julien Games category, the only thing left for you to do is to start playing the games at once, and have immense fun. Remember also that this is just one of hundreds of categories, with so many of them having so many awesome games, waiting for you to check them out! Browse our website and see how many games you will love to play you will find, and come back to our website as often as possible, daily even, because you do not want to miss out on any of the fun, right?