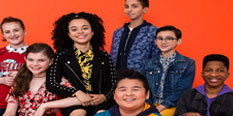 All That Games
🤔 What are All That Games?
If you love playing games from Nickelodeon, then you're going to want right now to try out and enjoy the new and awesome All That Games provided by our team, games like only here you will discover, trust us!
All That Games
We will and always have the best categories of Nickelodeon Games on our website, and we're proud to say that we're always the first website to create these pages for new shows that start airing on Nickelodeon all the time, which is what is also going to happen right now and here, where we are inviting everyone to check out the All That Games category, based on the show from Nickelodeon with the same name. Now, this show is a remake and a continuation at the same time of a nineties show with the same name, which used to be very popular back in the day, so of course we would be positive that the same is also going to happen with this continuation. Of course, the kids watching the show now are not familiar with the original, but they don't have to be to play these games, and to enjoy these friv All That Games you don't even need to see the current show. Still, allow us to use this following part of the article to tell you about its premise, who are the main characters, and also, about the kinds of games you will play here, so when you're done reading this we are sure that playing games with All That is going to be everything that you want to do, no doubt about it! Now, there are not that many things we can say regarding the show, because instead of having a linear story like most of them, this is actually a sketch show, one where the main casts and their guests and cameo appearances do all sorts of comedy skits and sketches, not all of them live, but sometimes they do have live episodes. They are going to parody the different events that happened around the world a week prior, and, since this is a Nick show, of course they do it in a family-friendly manner. Because of the premise of the show, we are not quite sure what kinds of All That Games are going to be added into it, as so far we only have words games to offer you here, which is why we and you can expect to find memory games, skill games, or puzzle games here in the future, and we have no doubt at all that you are going to love them. Now, since we have given you a look inside of the world of these Nick Games, nothing should be holding you back from starting to have fun with them right now and here, like only on FRIV Games Today you can! Don't forget that there are plenty more great categories we have added here in the past, so when you are done with the games on this page, make sure to try out what other great games we have here in store for everyone!