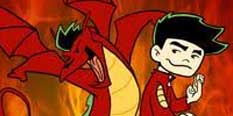 American Dragon Games
🤔 What are American Dragon Games?
Play the best online American Dragon Games on the internet right here and now, on www.GamesZap.com, where we are making sure that you have as many awesome categories at your disposal, all filled with great games to play which we are sure you will enjoy, just like it is going to be the case with this one!
American Dragon Games
American Dragon Games, or American Dragon Jake Long Games is one of the newest Disney Channel Games categories of games we have created for our website, where we honestly want to offer you as much awesome content as possible, with that being the reason why you now get to find these games on our website, games which you might not find on all of the websites, although the series they are based on has long been finished, so the games have already probably been played by many children from all over the world. Well, one thing is certain, in the world of online streaming, it is now more than ever really easy to find all sorts of animated series on the internet, even older series which televisions might have forgotten about, so whenever someone discovers this animated series and then wants to play American Dragon Games, they will be able to do so on GamesZap.com, where we have made sure that all of the existing games based on this series are found on this page, and can be played for free no matter what part of the world you come from, and of course, no matter what your age is. Disney Channel is one of the most important producers of animated television series for children and teenagers, and this channel usually has the most hits, so it is not surprising at all that games that are based on their series are usually very popular and played many times, just like we are sure it is going to be the case with the American Dragon Games we have here, games we simply can't recommend enough to all of our visitors, because that's how fun they are. While the series only ran for two years and a total of two seasons, we know that it has gained quite a following in that time, and after it ended it was still on re-runs many times, not only in the US but in other parts of the world as well, so we are sure that it has quite a fanbase. Now, if you are not part of it, but are still interested in playing American Dragon Games, we invite you to keep on reading this description to the end, because from it you are going to find out what the show is about, who are the characters in it are, and what kinds of games you can play on this page. If you have no interest in this category, we think that after reading all of these things, the first thing you will want to do will be to start playing American Dragon Games, which is what we hope that all of you are going to be doing! Jake Long might seem just a regular teenager from New York, but he is not regular at all, since he has the ability of turning himself into a dragon. He turns into the American Dragon in order to protect the mystical creatures from New York, but also has problems with his schoolmate Rose, who harbors a secret herself. That is that she is a dragon slayer, belonging to a family of dragon slayers, so her purpose in life is to defeat Jake. Jake is not alone in his countless adventures, but joined by friends like Trixie, a witty and blunt girl who is the most mature one of the group, and Spud, who appears to be dumb, but he is actually a genius. The ability of Jake to turn into a dragon comes from his mother's family side, as they are Chinese, and their family is one of dragons, but Jake's father has no clue about this secret. In the ways of being a dragon and how to do his duty, Jake is trained by his grandfather, a wise and old mentor. Doesn't this sound really interesting? Sure it does, but just wait until we tell you about the games, which is the main point of interest to this page. The category is going to include skating games, dress up games, coloring games, skill games, adventure games, strategy games and many others, making this a really diverse and interesting category. We are sure that you are going to be happy with every game that you find on this page. Now that we have told you all of these things about the American Dragon Jake Long Games, you have no excuse at all not to at least give them a chance, by picking up a game and trying it, so you can see for yourself just how fun they are! When you will be done playing these games, do not hesitate to visit other pages from our website, since we have plenty of other categories created here, all filled with one after the other fun game, only for your entertainment!