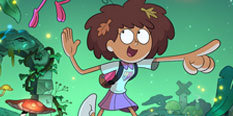 Amphibia Games
🤔 What are Amphibia Games?
If you are up for new and awesome Disney Channel Games, playing Amphibia Games online on our website is the way to go, this being one of the network's newest shows, so you are in for a new and fresh experience with each new game that you get to find and play here for free!
Amphibia Games
On Friv Games Today our visitors will always get the chance of finding and playing the best new Disney Channel Games online on the internet, games that we know are of a lot of interest to kids everywhere, since we know very well that this is one of the most popular children's television channels on the globe, and whenever they have a new show coming out they tend to become instantly popular, and that applies to any country they are airing, which is why whenever such a new series appears, our website is always the first one to share with you games based on it. As you can see, that is proven right at this moment as well, when each and every one of you get the chance to enjoy the Amphibia Games category, a new page where we have absolutely no doubt at all you are in for a really great time with each new game we will be offering you, and you can be sure that we will always be the first ones to share those new games with you, just like it is true with any other category of ours. If you are among the lucky ones to have already seen the show, we have a feeling you have already fallen in love with it, and playing its friv games is what you want to do right away, something we hope is going to be the case. If there are some of you who have not seen the show, and precisely for that reason you would want to know more about it before deciding to play our Disney's Amphibia Games or not, we invite you to continue reading this article to the end, because from it you learn what the show is about, who the show is about, as well as what kinds of games you can expect to find and play here, with all of this information surely convincing you that giving the games a chance right away is what you should be doing! Anne Boonchuy is a 13-year-old Thai-American girl who is the focus of the show, who is quite self-centered, proven by the fact that in the first episode she steals a music box, which turns out to be a magical item that transports her to Amphibia, a magical island with lots of swamps which is inhabited by talking frog people. It is there that she meets and quickly becomes friends with a ten-year-old frog girl by the name of Sprig Plantar, who becomes her guide through this new world, as well as her first true friendship, which will help her become a true hero. Of course, plenty of adventures are to come for these characters in this new world, and we are sure that in the second season that has already been announced the fun will be even greater. As Amphibia Games online go, so far there is only one available for you to play, a game called Locus Pocust, but we are sure that many more of them are going to appear here in the future, from adventure games and action games, to puzzle games, coloring games, or skill games, so no matter what, you will be able to find and play games to your liking here, no matter what your background is! If you are a new visitor to our website, you should now that Amphibia Games is just one of the hundreds of friv categories online we have here, all filled with their own fantastic games ready for you to enjoy them, so when you are done with the games on this page, don't hesitate to check them out and see how great they are yourself. Of course, you should also not keep this category all to yourself, because it would be great if you were to invite friends over to our website and show them the Amphibia Games category, and maybe they are going to stick around and then check out every new and interesting game we bring you here daily, since day by day there is new and awesome content being added here for you, and all of it is definitely worthy of your time! Enjoy your time here right now, and forever!