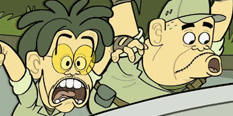 Animal Control Games
🤔 What are Animal Control Games?
Only on www.GamesZap.com do you now have the chance to play Animal Control Games, which is one of the latest Cartoon Network Games category we have created for our website! Join Ranger Ba and Ranger Ya in their adventures with the animals, in these great Animal Control Games that our team has created for one reason, and that is for you to have a lot of fun!
Animal Control Games
Only on GamesZap.com do you have the chance to play Animal Control Games, which is one of the latest Cartoon Network Games category that we created for our website, mainly because we have seen that there are currently no websites offering Animal Control Games to the fans of this show, so we thought that it isn't right, so we came to the rescue and created this very interesting category. It is going to be a category which is going to appeal mainly to viewers of Cartoon Network Asia, because only on this network is this cartoon airing so far, but who knows, maybe one day it is going to be exported to other countries as well, which could be very easy, considering that the show has no dialogue. We are sure that those who watched these cartoons fell in love with them, which is what we hope that is going to happen with those who are going to play the games on this page, even if they didn't know anything about the series. Of course, to correct that, in the following part of this description we are going to give you information about the plot of the show and it's characters, and after that, you will be able to play Animal Control Games with no worries at all! In the middle of a futuristic metropolis somewhere in the far east we find the ANIMAL RESERVE, which is a giant animal park filled with many species of animals which are endangered. Still, you could say that even in the park they are in danger, in danger of their wardens, Ranger Ba and Ranger Ya, who are not too smart, they can be real jerks sometimes, and they got too much power and equipement on their hands, which means only one thing: that they often times cause all sorts of problems in the park, and mayhem ensues. Their boss is the General Inspector, and there are all kind of animals the two interact with. We have the anteater, the bear, the challenger monkey, or the cheer frog, and what all these animals and all the other know is that Ba and Ya are far from being the ones in charge in the park. The show is silent, just like we said, and it runs for a minute and a half, enough time to see the two rangers do something really stupid, and see the adventures that they have with the animals. Now that you know all these things, we hope that you became curious about the Animal Control Games category here on our website, and the first thing you will do right now is to start playing the games on this page. Our team is very glad to be able to offer original Animal Control Games, developed by our team, and like all the games that we create, these ones are also very interesting and fun! Well, we hope that we are going to see you around our website, and that you play as many fun games that we have here as possible! Good luck to you all!