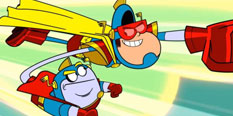 Atomic Puppet Games
🤔 What are Atomic Puppet Games?
It is only on www.GamesZap.com that you have the chance to play Atomic Puppet Games, which is one of the latest Disney XD Games categories that we have created on our website, which so far you can't find anywhere else! Join this duo of unlikely super heroes in their adventures right now, with the most fun Atomic Puppet Games on the internet, only on www.GamesZap.com!
Atomic Puppet Games
You need to look no further for Atomic Puppet Games, because you can finally find them on GamesZap.com, where we have created this amazing new category of Disney XD Games, which we are sure that many of you were looking for on the internet, and you were probably dissaponted because you couldn't find it. Well, that is until now, when we have created the Atomic Puppet Games right here, on our website, because we think that the fans of this show deserve to find and play games with their favourite characters. Somehow, it's not suprising that these games couldn't have been found so far, since the show has just started airing on Disney XD in the US, UK, and other countries in the summer, and on Teletoon in September. It first started airing in France, as the show is a co-production between companies from France and Canada. Since it has been picked up by Disney XD, that means that it has a quality-stamp on it, because all the shows from this network are excellent, and they never dissapoint. The same can be said about the games based on shows from this network, which we are sure you will agree with us after you are done playing the Atomic Puppet Games on our website! Since the show is a new one, we are sure many of you would like to know more about it before you try the games on this page, and just for you, we have created this description, where in the next part we are going to offer you all the information about the show's premise and characters you need in order to start playing the games with utmost confidence! Captain Atomic is one of the best super heroes in the world, but one day, when he was shaking hands with a 12-year old boy who also happens to be one of his biggest fans, he is transformed into a powerless puppet by his sidekick, who betrays him. Now, the only way for Captain Atomic to gain back his powers is by teaming up with the boy, Joey, and become the super hero duo known as Atomic Puppet. While this is an unlikely partnership, the two have to work together to defeat all the city's villains, while trying to get Captain Atomic to his regular form. The adventures of this duo are always really fun to watch, and it is especially fun if you play Atomic Puppet Games, and interact with the two directly. In this category you will be able to play games where you will become a superhero yourself, and help the team fight enemies or stop crises in Mega-City, but also play other games like puzzle games, memory games, or coloring games. We are sure that you will enjoy each and every one of the Atomic Puppet Games on this page, so we invite you to start playing them right now, and waste no time at all, because you will definitely have lots of fun on our website, which is true not only for this category, but any of the other ones we have!