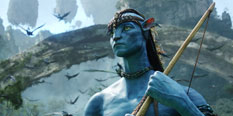 Avatar Movie Games
🤔 What are Avatar Movie Games?
The best Avatar Movie Games online on the internet can now be found here, so try them out before it is too late!
Avatar Movie Games
Avatar Movie Games is a category that our website really needed to have at this moment, considering how powerful this franchise shows itself to be even more than ten years after the first movie in it released, as it is rare for sequels set that much time apart to make good numbers at the box office, but this one became the biggest box-office hit of 2022 in just a few weeks, even though it premiered at the end.
Even more sequels have been announced, which leads us to believe that games with the Avatar movie characters are going to stick around for quite a while, games that you want to play, hence why we created this category, where you get to do things such as give a girl a makeup inspired by the characters in it, create your own Na'vi avatar, both an adult and a child one, color your favorite Avatar characters, and much more!
Learn more about the Avatar movie franchise to be able to play its games!
Avatar was a 3D movie released in 2009, which not only featured some of the most advanced special effects up to date, which is not surprising, as director James Cameron, who also made Terminator, or Titanic, is known to always pursue the future of filmmaking. The introduction of 3D glasses and watching movies like this was also credited to this movie, as it was the first one with it that made a big ruckus in the industry, and since then, most other blockbusters are released like that.
The movie follows humanity away from home, on the planet, or moon, rather, of Pandora, where they have come to extract precious minerals because the Earth is dying. Well, that does not sit well with the Na'vi population that is indigenous to the planet, who want to keep their life force provided by these minerals and keep things in peace.
One of the invaders is a soldier whose twin brother died on this planet, and he was called to arms to pilot his Avatar, which is a bio-engineered body created to be the same as the Navi, piloted by a human instead. Jake, which is his name, ends up falling in love with a woman from this planet, and switches sides and joins theirs, rebelling against the humans that only want to cause destruction and send them away.
Avatar: The Way of the Water was then released in 2022 and sees humans coming back for revenge, and since they win the first battle, Jake and his family, as well as the tribe he is leading need to go underground and ally with another tribe of the island, which uses the natural force of water to do everything, and together team up to stand against the invaders.
This film was made back-to-back with the sequel meant to be released in 2024, and the director has promised even more two sequels, one in 2026 and one in 2028, and through these years you can bet that our team will offer you the best Avatar Movie Games online unblocked and for free on the internet, which we hope you will play right now, and in the future too!