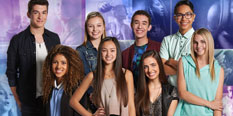 Backstage Games
🤔 What are Backstage Games?
Only on www.GamesZap.com can you now play Backstage Games, which is the most recent Disney Channel Games category we have created, because we knew that there are many fans of the show who want to play games based on it, and they couldn't. Well, they can now, which is what we invite you to do right now! Play!
Backstage Games
The Backstage Games category is a category of games based on one of the new shows which debuted on Disney Channel in 2016, a show that is called Backstage, which is a show that was brought over from Canada, where it is being produced and where it was aired for the first time. What kind of show is Backstage? Well, first of all, it is a live-action series, and it's genre is that of a teen drama. Well, this kind of show is really popular amongst teenagers and pre-teens, so it is no suprise that it was well-received by the audiences and that it was picked up by a major network like Disney Channel. From the United States, it is probably going to be aired on Disney Channel networks in other parts of the world in the future, meaning that even more people are going to become familiar with the show, which means that more and more of them will want to play Backstage Games, which is what you can do now only on GamesZap.com, your #1 source for all the best online games! Of course, if you are from Canada, or from the US, you probably reached this page because you wanted to, so you can start to play Backstage Games right now. But, on the other side, if you are here, but are not familiar with the show at all, we are going to try our best to give you some information about it in the next part of the description, which will only make you want to play the games even more. Keaton School of the Arts is the setting of the show, where we follow a group of studets who do things like most teenagers in these kind of schools do, like singing, dancing, and performing. They all want to be stards, so they have to work hard for it, but at the same time deal with teenagers problems, like dealing with failure, making new friends, losing old friends, or working hard for your dream. Singers, songrwriters, ballet dancers, dj's, actors and musicians, filmmaker or any kind of artist finds their place at this school of arts, and it is a thrill to watch all the adventures that these characters have in their daily lives. Well, know enough about the show to start playing Backstage Games on our website yet? Well, we hope that the information given to you here was satisfactory, and that you will now want to check out the games on this page. So far, you can play a very fun puzzle game featuring an image of the cast, and that is because the series is new, but be sure that in time, there are only going to be more and more Backstage Games added on our website, all for your entertainment and fun! We wish you all good luck, and hope that you will also visit all the other categories on our website, as you are bound to find the fun games you are looking for!