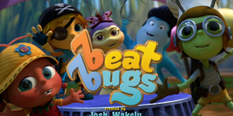 Beat Bugs Games
🤔 What are Beat Bugs Games?
By playing Beat Bugs Games on our website you can join five bug friends in their adventures in a suburban backyard, where they explore and learn new things, accompanied by the wonderful music of the Beatles, covered by all your favorite artists! There is nothing not to like in the Beat Bugs Games category, so start playing these games right now!
Beat Bugs Games
Insect lovers and music lovers alike are sure to enjoy playing Beat Bugs Games here on GamesZap.com, where this incredible new Netflix Games category has been created only for you, as we would like to be able to offer you many fun new games based on all the new shows which are set to stream on Netflix. This online streaming giant has acquired a large number of new animated series, and it also has it's own series which they are producing and developing, just like Beat Bugs, which will be for sure one of the most acclaimed new kid's show, and we are sure that the Beat Bugs Games category will also turn out to be one of the best categories on our website! The createor of the show really wanted to incorporate on thing into the series, which is the music of the Beatles, one of, if not the most famous band in the entire world, which has made music so good that it is still being played all over the world even today. Music so important and so good should also be passed on to the younger generations which may not be usually exposed to the music of the Beatles, and that is where a show like Beat Bugs comes into play. The show will not feature the songs directly, but rather covers of the songs by contemporary artists like Pink, Sia or James Bay. Now that we got the musical aspect of the show and category down, it's time you learn more about the premise and story of the show, so that you will get to know the world and characters better, which will make you want to play new Beat Bugs Games on our website for sure! Jay, Kumi, Crick, Buzz and Walter are the names of the main characters, who, as you may have guessed by now, are five bugs and friends who go on incredible adventures where they explore and learn new things. They do that in a courtyard, which may seem small for a human being, but for the five little bugs, this is their entire universe. Each of the characters has a distinctive personality, making their interactions very interesting and fun to watch, just as fun as playing Beat Bugs Games on our website! Often times while watching the show you will see the characters break into songs of the beatles covered by your favorite artists. We excitedly expect the show's premiere on Netflix this summer, and we are proud to say that we are here offering you Beat Bugs Games even before the show has started airing, as we are always ready to offer you all the latest categories which we think you should check out. Of course, like in most of our categories, you will find in the Beat Bugs Games category all sorts of puzzle games, coloring games, memory games, but we are sure that in time, even more interesting Beat Bugs Games will appear, so that you will never get bored!