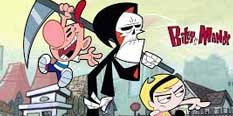 Billy and Mandy Games
🤔 What are Billy and Mandy Games?
Come and play the best Billy and Mandy Games on the internet right now, only on our website, where our administrative team is very happy to be able to offer you such games, games which we have tested, so we know for a fact that you can have a really awesome time playing each of them!
Billy and Mandy Games
Billy and Mandy Games, or The Grim Adventures of Billy & Mandy Games category is one of the newest categories of Cartoon Network Games which our administrative team has added for our website, where we want to be able to offer all of you as many awesome games as possible, knowing full well that you visit our website because you know that here you can find a wide variety of online games, one more fun than the other one, and without a doubt you will be happy with these games as well, since they are based upon one of the most acclaimed and popular shows that used to air on the network back in the day, Billy and Mandy, which was a show popular not only in the US, but all over the world as well, at it has been aired in many countries, so we have no doubt at all that these games are going to make countless of people happy, from all parts of the globe. This animated series ran from 2003 to 2007, spaning not only many television episodes, but many spin-offs, films, video games, and other media as well, having built a really interesting and great franchise. Well, like we said, there are 10 years since the show has been off the air, although it can still be watched on television sometimes, and it is definitely available on the internet, but that does not mean that the Billy and Mandy Games we have do not hold up. Rather, they do, and they are still as fun now as they used to be, so we have no doubt at all that you are going to have a really good time with all of the games in the category. Yes, we mean that even if you belong to the group of people that has never before seen an episode of the show, since all of the Billy and Mandy Games on our website have descriptions, which you can easily read in order to learn how to play said games, and without a doubt you will enjoy them. Now, if you do belong to this group of people, and you are also interested to learn more about the show before you begin playing Billy and Mandy Games, you are invited to continue reading this description, because up next we are going to explain what the show is all about, and we are also going to give you a glimpse into the world of these Billy and Mandy Games as well, so you will certainly get excited for this category after you are done reading all of these things. Billy is a dim-witted boy, always happy and excited, while Mandy is a cinnical and merciless girl, and the person who completes the group is Grim, the Grim Reaper, who is often tormented by the duo. They won a limbo match against him, which has made the Grim Reaper forced to be their servant for all eternity. Of course, he is not happy about this at first, but learns to care for the young duo, although wanting to break free from them as well. Now that they have a mistycal being at their service, Billy and Mandy use Grim's power to travel into all sorts of supernatural locations, like the Underworld for example, meet with all sorts of creatures and magical creatures, often times using his powers to fulfill things for themselves, although not all the time they get the exact results that they wanted. Of course, the trio has lots of interesting adventures, all filled with magic and fun, and luckily for you all, now you can take part in the adventures yourself, only by playing Billy and Mandy Games on our website, games about which we are going to tell you more things right now, so pay attention! Well, the category is filled with adventure games, action games, skill games, but also formats like bejeweled games, golf games, truck driving games, music games, and plenty others. One thing is certain, no matter which game you choose to give a try to from this page, you are going to have a tremendous time, which is the primarily reason why we created the category, which is a decision for which we are very happy we have taken. Now that we have put everyone up to speed on the Billy and Mandy Games category, we invite you all to start playing the games, and when you are done, to check out the many other categories we have on our website, because you will be able to find all sorts of interesting games, all of them which we recommend to you, as we know that you will have a great time playing them, since that was the case for us as well.