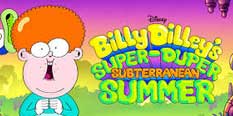 Billy Dilley Games
🤔 What are Billy Dilley Games?
Billy Dilley Games like the ones here you cannot find anywhere else, and whether or not you know the show, we invite you all to start playing the games, because they are going to be really fun to play, trust us! That is also true for all our categories as well, so waste no time at all!
Billy Dilley Games
Billy Dilley Games, or Billy Dilley's Super Duper Subterranean Summer Games is the newest category of Disney XD Games that our administrative team is very happy to provide all of you with today on our website, where we are always making sure that new categories based on new shows on television are being created, and since this show has premiered in June on Disney XD in the United States, it was only obvious for us to also have this category of games, especially since the show airs on this network, since this is one of the most popular networks for teens out there, so we want to be able to provide you all with as many awesome games as possible based on their series, and Billy Dilley Games is certainly going to represent one of the best categories that we have created for everyone on our website. Of course, as soon as you are going to start playing Billy Dilley Games, we are sure that you are going to reach the same decision as we did, and in no time at all you will only want to play even more games with these characters, games we will try our hardest to provide. Once the show will also begin airing in different countries all over the world as well, even more children will search the internet for these Billy Dilley Games, and our administrative team is going to make sure that these games are going to be found here, and that they have as much fun as possible with them. If you have already seen the show on Disney XD and liked it, then you have probably reached this page because you wanted to play Billy Dilley's Super Duper Subterranean Summer Games, so do not waste your time at all, but instead begin playing the games right away, and see how fun they are for yourself. That is why you are here, right? For the others, who might never even have heard about this show, and who might want to learn more about it before playing these games, we have written down some things about it in the next part of the description, which we really invite you to read, because if you are now not decided if you want to play these games or not, then after you are done reading these next lines, we are positive that you will be decided, and your decision will be to plunge right ahead into them, and have a fantastic time with each game on this page. Just like you may have realized from the title of the category and of the show, the series follows the adventures of the main character who is called Billy Dilley, who is a boy in seventh grade who really loves science. In his amazing adventures he is joined by his friends, Zeke and Marsha, who are also his lab partners, in addition to Anaximander, who is their pet rat. Yes, you read that right, a pet rat! On one summer vacation, the group gets stuck in a new world underneath the surface of the Earth, a place called Subterranea-Tania, where they end up after the gang took a ride into The Cheeserator, which is a drilling machine whose purpose was to cut really big holes into sweese cheese, but they actually ended up beneath the Earth. As we have mentioned before, the show relies heavily on science, and by watching it, the children do not only see really interesting on-screen adventures with some awesome characters, but they also get to learn all sorts of things about science, or survival for example, since they are in a brand new place where they have to use their wits to learn about the new world, and navigate it. Will they be able to get back home? What adventures will they have in this new world? Find out by watching the show, or even better, waste no time at all and play Billy Dilley Games, which gives you the chance to not only be looking from the sides, but actually enter the world of these characters, and have adventures with them directly, which we think is even more awesome. As for what kinds of Billy Dilley's Super Duper Subterranean Summer Games you will be able to find and play, we confess that at the moment, there is only one game in it, but we assure you that more are going to follow in the future, as that is the case with the shows, and since it only began airing, we are positive new games are going to be added real soon. We have now told you everything we wanted about this category, meaning it is now your turn to start playing these amazing games we have provided you with, and start having fun on our website!