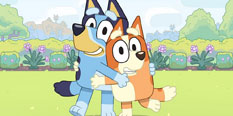 Bluey Games
🤔 What are Bluey Games?
Join us right now in the amazing world of online Bluey Games, where we are positive that you're going to have a great time from start to finish with each of the animal games we're prepared here for you, one more cool than the other!
Bluey Games
Bluey Games is the newest category of Disney Junior Games we are highly-excited to have created for you all here free of charge, especially because we've seen that not that many other friv games websites out there currently have games to offer you for these characters, and since they have already been around for a while, we are positive that they do have fans, fans who would love to play games with them as much as possible, something we give you the chance to do right now. If you're not familiar with this world, don't worry, since we teach you about it right now! Shows with talking cute animals are always a hit, so this one that features a family of dogs with different personalities was bound to be a hit also, and we're very excited that children love it. Bluey is the main character of the show, and she is a six-year-old Blue Heeler puppy, dogs that are quite rare, which makes things more interesting. She has a big curiosity about the world around her, has a wide imagination, and you can always see her being very energetic like all puppies usually are. She lives together with her mother and father, and she has one sister, and more often than not the whole family is out there on adventures and all sorts of activities that they do and involve imagination, which is a skill that the show aims to teach all the children watching. The importance of family is also a theme of the show, with other families of dogs being present in the show and interacting with our main group. Bingo, her sister, has the color red, their father Bandit is an archeologist, and Chili, her mother, works part-time as airport security. Their aunts, uncles, grandparents, cousins, and other members of the family get screen time always too, as the adventures of this canine family never seem to stop. Muffin is the cousin of the girls, Socks is another cousin who is still learning how to walk, Stripe and Trixie are their aunt and uncle, or we have Mrs. Retriever, who is their kindergarten teacher who gives them a lot of valuable lessons. Nana and Bob are the grandparents of our protagonist puppy. Now, let's talk about the friv Bluey Games you get to find and play here for free, no? Well, so far there are not that many, but the ones we have are awesome! In Keepy Uppy you need to use your skills to keep a balloon in the air for as long as possible to increase your score, and in Magic Xylophone you get to dress up the cute dogs in all sorts of crazy and varied outfits since these dogs have a cool fashion sense. Of course, we are positive that all sorts of other animal games online are going to be offered to you here for free in time, because the show has just recently been picked up by Disney for distribution all over the world, and after it becomes popular outside of Australia too, which is the country of origin for this show, we have no doubt at all that we will be seeing these characters pop up in all sorts of other amazing games! So far, enjoy these ones, and don't forget that Friv Games Today has plenty of other amazing friv categories for you all, one more awesome than the other one, so when you're done with the friv Bluey Games online on this page, go check out more of our content, and we're positive that you will immediately find more great games to enjoy!