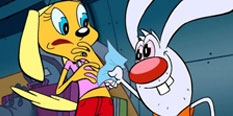 Brandy and Mr Whiskers Games
🤔 What are Brandy and Mr Whiskers Games?
Brandy and Mr Whiskers Games is a wonderful category of Disney Channel Games we are very happy to have created, since there are awesome games for you to play here, and it would really be a shame if you did not, since we have worked hard to bring them over, because we have faith that you can have a great time if you check them out!
Brandy and Mr Whiskers Games
We are very happy that you now find yourselves on the page of Brandy and Mr Whiskers Games, which is a brand new category of games we are very happy to ahve created for our website, since there are plenty of awesome games that we will be able to offer you in it, making our website the best place for you to find and play these free Disney Channel Games. You know very well that our website is very well organized, and we leave no games behind, so if you want to find the best possible version of any category, our website is most definitely the place to be! The same is going to apply to Brandy and Mr Whiskers Games, and if you do a quick browse of this page, you will definitely agree with all of this. Another thing that long-time visitors of our website know is that we always look towards the future, but also towards the past, because there are shows in the past that are not currently airing, but which have awesome online games for them available. Most websites do not care for them, and do not add them, which is why we make sure to do so, because we want to have the best possible content ever, and having more of it never hurts, especially if we are talking about really fun to play games, like it is the case with all of them that you see on this page. Brandy and Mr Whiskers is a show that ran on Disney Channel from 2004 to 2006, and has been in re-runs until 2010. We know that is eight years ago, but the show still airs in other countries, maybe on other channels, and let's not forget about the internet, where this show is available, so even now, a decade since it has been off the air, the show can still be easily found and enjoyed by children on the internet. Of course, it does not require that you have watched the show to enjoy playing our Brandy and Mr Whiskers Games, since members of our administrative team played them without knowing the show, and still had an amazing time, so this is proven! Still, if you are more of the curious type, and would like to learn more about this show and the games that are based upon it before deciding if you want to give the games a shot or not, then you are invited to read this description to the end, because from it you will be able to learn all of these things, which are going to make you excited and wanting to try out these games for sure! We are going to start off with the premise and characters of this show. Brandy is a pampered dog, and Mr Whiskers is an easily excited rabbit. What do these different animals with different personalities have in common? Well, they are on the same plane, of which they fall out of, and end up stranded in the Amazon Rain Forest. There, they go on all sorts of adventures, and face the challenges that this vast territory full of mystery presents. They will not be alone the whole show, as it is in this place where they make new friends such as Loa, a snake, sisters Cheryl and Meryil, or Ed, an otter. The duo always has to adapt, and face off whatever comes in their way, in order to survive, and maybe one day reach back civilization. We think that the premise is quite intereresting, and we are positive that many of you are going to agree with us on that matter! Now that this has been told to you, it is time for us to share in on what kinds of Brandy and Mr Whiskers Games online you will be able to find and play for free here! Well, you are going to play adventure games, action games, skill games, dress up games, and all sorts of other ones, so we are sure that no matter what your tastes in online games usually are, something is going to draw your attention on this page. Well, we have now told you about everything that we wanted you to know regarding this page, so we really hope that with all that we have said here, we have made you curious enought to try out the games, which is a decision we are positive you are not going to regret in the least. When you are done with the games on this page, remember that Brandy and Mr Whiskers Games is just one of hundreds of other categories, and we have thousands of games available here, so it would really be a shame not to check them out, and see how many awesome more games you can play here, free!