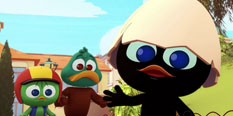 Calimero Games
🤔 What are Calimero Games?
Welcome to the Calimero Games category, a brand new and awesome category of games we are very happy to have created, where you will get to find the most amazing games that feature this cute little black chicken, who is beloved all over the world!
Calimero Games
We are now introducing all of you to the Calimero Games category, which is one of the best new categories of games we have created for our website recently, and we are very happy we have done so, because it is going to have lots of fun and interesting games that children from all over the world will be interested in playing, and that is an absolute! Calimero Games have been around for a while now, and we are disappointed that we could not bring them to you faster, but it's still great that we have them now, and they will be here for years to come, so that all people who visit our website regularly have the chance to play them and have a great time doing so, just like it has been the case for us! One reason why we believe this category is as important as it is is that this show has been around since 1972, and it is a co-production between Italy and Japan, making it a cartoon and an anime series at the same time. The first version of the show aired in that year, there was another one in 1992, and the most recent one is from 2013, which we are sure that so many of you that are on this page have seen it, because those who caught the first shows are too old for games at this moment. It seems that the show has not lost its popularity, despite no new episodes having been produced in the last years, but the show is still airing on TV in many places all around the world, and not just that, but it is also available for streaming, so it is easy to discover it! If you are already fans, then you are here because you wanted to play online Calimero Games with your favorite characters, so we really hope that you will do so right away! For the rest of you, who are now reading this because you don't know anything about the show, but would like to learn more about it before you decide if you play these games or not, we invite you to read this article to the end, because right now we will tell you what the series is about, who are the main characters, and, of course, we will also give you details on the games you will get to play here! Calimero is not just the title of the show, but also the name of the main character, a black chicken, the only back one in a family of yellow ones, and he also wears his broken eggshell on his head. The fact that Calimero has a different color from most other chicken is meant to show us that we need to love and respect each other despite our differences. He goes on all sorts of interesting adventures, ones that you both have fun watching, and you learn a lot from as well! There are other characters in the show as well, such as Priscilla, who is his girlfriend, Giuliano, Peter, and more. Now that you know what the show is all about, you must be very curious about these Calimero Games too, so let's tell you all about them right here and now! You will notice that the category is quite diverse, and it will include games for girls and for boys alike, and no matter your age, you are bound to find something you enjoy here! You can find memory games, which help you become better at memorizing, skill games such as pogo games, airplane flying games, or even basketball games! There will be tic tac toe games, bubble shooting games, Tetris games, puzzle games, and even doctor games, or racing games if you can imagine! Of course, we are positive that in the future there will be even more such games to appear, and when that happens, you can rest assured that we are going to be the first ones to share them with you all, for free! Now, let the fun begin with the games on this page right away, and don't hesitate to check out what other great games have been added on our website over time, because you will be able to find more fun to have in no time at all, which is also why you should check out our website day by day!