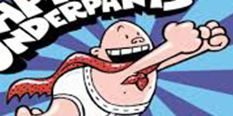 Captain Underpants Games
🤔 What are Captain Underpants Games?
If you want to find the complete collection of the best Captain Underpants Games out there, then you are in the right place, because on our website you can now find all these games, and have a lot of fun playing them! We recommend all of our Captain Underpants Games, like we do all our games, so start the fun now, only here, totally for free!
Captain Underpants Games
UPDATE: Because we know that you are a fan of Captain Underpants, we are very proud to announce you a new series of Captain Underpants 2018 games! Here you will find games from puzzle, memory, coloring, to skill games, adventure and action games with your favorite super-hero, Mr. Krupp and his friends Professor Pippy Pee-Pee Poopypants, Melvin Sneedly, Benjamin Krupp, George Beard, Tara Ribble, and Harold Hutchins! You will know that Underpants it's about to come when you hear "Tra-La-Laaaaaa!". We hope that you have an amazing experience on our site, and we let you read the full story of this amazing boy! We here on GamesZap.com make sure that our website is updated with all the necessary new categories of games, meaning that whenever new animated or live action tv shows or movies that are targeted towards our demographic are released or just simply announced, we try our best to create categories of games for them, and whenever a new game made for that category shows up on the internet, we make sure our website is the first to share it with you all. Well, everyone, that is why right now you find yourself on the page of the Captain Underpants Games category, which is a category of games you have found for the first time on our website, since we have made sure to create it as soon as the movie was announced an the trailer released. When the movie is finally going to premiere in June of 2017, we know for sure that our website will already have tons of Captain Underpants Games available, and all the children who will come back from the cinemas and search on the internet for games based on the movie are going to come here and be very glad they can play so many amazing games based on it. That is why our website still remains one of the best out there, and that is why you should always visit our website as often as you can, because it is the best way to stay up to date with all the latest releases in terms of online gaming! Just like with the many other categories of games that are based on movies from our website, we are sure that the Captain Underpants The Epic First Movie Games is also going to become popular, especially if the film becomes a hit at the box-office, not only in the United States, but all over the world as well, since our website is global, so we expect visitors from all parts of the world to come and find these amazing games! We pray the film is going to be a success, and we also hope that you will enjoy each and every game we will add on this page. We know that this is a new movie, which is going to appear in 2017, but we are sure that some of you might have heard of Captain Underpants before, which might make you more inclined to give a change to these Captain Underpants Games. Why would that be? Well, that is because this animated movie is based on a series of children books of the same name, which has been translated in tens of languages, and has sold many copies globally, so we are certain that the fans of the books will be very eager to watch the film and see the movies, and those who have not known the franchise and will be introduced to it through the movie are definitely going to be very happy to find it, and fall in love with it immediately. Now, in these next lines we are going to tell you more about the premise of the movie, which is hopefully going to help those that are undecided on whether they want to play Captain Underpants Games or not to give them a chance, because we are sure you will enjoy playing Captain Underpants Movie Games a lot, just like it is the case with us whenever a new game based on it we discover and add here. George and Harold are two elementary school students with a real big imagination, who manage to hypnotize their principal, an arrogant man, whom they manage to transform into Captain Underpants, a pretty dim-witted super hero created by the two children. Together, the three characters have to band together in order to stop three villains from taking over the world and destroying the super hero, and these villains are Professor Poopypants, the Turbo Toilet 2000, and Melvin Sneedly. One thing is certain, you have never seen a super hero movie like this before, even in the animation world, so we are certain many children are just going to fall in love with the movie! We also hope you will love playing Captain Underpants Games on our website, whether they are puzzle games like the first one from the category, coloring games, memory games, skill games, or any other type of game, since the possibilities are endless. Don't forget to tell all your friends about this category of Captain Underpants Games as well, since they most probably are going to love the games as well, and we are sure they want to be up to date with them as well. When you are done playing Captain Underpants Games, visit the many other categories on our website, and do not let the fun end, which is possible only on our website!