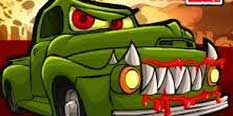 Car Eats Car Games
💡 Play similar online games!
🤔 What are Car Eats Car Games?
Only on www.GamesZap.com you will be able to play the amazing Car Eats Car Games we have added, games we added because we are sure that you will love them, just like we had fun with them, so we decided to bring them over to our website!
📂 Related Categories

Car
Car Eats Car Games
Welcome everyone to the Car Eats Car Games category on our website, which is one of the newest categories of Yepi Games and Car Games we have created for our website, which we have no doubt at all is going to be enjoyed by plenty of people, since car games online have always been very popular, and when games like these ones come and bring such new and interesting things it makes them even better, and since we want our website to be a provider of high quality games, we had to have these Car Eats Car Games here, especially since we saw that many websites do not have the complete collection of games from this series, which is what we want to provide everyone here with, and we are sure that this is going to make the fans of the series very happy. Now, if they want to take each game in part and play them, they do not have to search for them a lot, and go to different websites, since all of them are going to be available for free on this page, which is going to make things a whole lot easier. Now, if you are already a fan of this series, and that is how you got to this page, then nothing should be holding you back from starting to play the games right now, even if you have played them before, or maybe we have some games from the series which you did not get the chance to play before, and you do now, and that will certainly make both you and us happy, for different reasons. Now, on the other hand, if you have never heard or seen anything about these games before, and you would like to learn more about the Car Eats Car Games category before you begin playing the games from it's page, you should certainly continue reading this description, because up next we are going to tell you how you play such games, to make sure that you do not have trouble playing and winning them. Of course, we are going to take the first game in the series as an example, since that has all the basic elements, and we are going to let you discover the interesting things that the later games added by yourself, making it a better experience for you when you play the games. Of course, like these games usually work, you are going to have multiple levels, and you will play with all sorts of different cars in each of them. To control the car you are going to use the four arrow keys, and if you need to jump, and you have the necessary power to do so, press the space bar. Collect stars along your way, because they get you points, and you will have several types of stars, each one granting you a different number of points. You also get extra points if you manage to do flips and stunts, but if you do them correctly, of course. Now, you might be wondering where doe these Car Eats Car Games get their title from. Well, we are going to explain right now, as it is an important part of the gameplay. The car that you are going to be controlling in each level is running away from a cannibal car which only wants to eat other cars. That means that you do not only have a finish line which you have to get to as quickly as possible, but there is also a car chasing you down, so if it catches you, you will be eaten, which means you lose the level and will be forced to start all over again. Of course, that means you will have to try your best to avoid any obstacles in your path, because they slow you down, and you also have to avoid crashing or something else. With such an interesting premise, with a very easy to understand and fun gameplay, and so many amazing levels to go through in the many games that the series have, there was no way we would not offer it to you, which is why you can now play amazing Car Eats Car Games on GamesZap.com! Well, with that being said, we told you everything that we wanted to make sure that you know about this category before you start playing it's games, especially if you have not played any of them before, so we are sure that if at the beginning you were not sure whether to play Car Eats Car Games or not, we are sure that by now the answer is a positive one, and the first thing you will do ten seconds from now is going to be to play these amazing games!