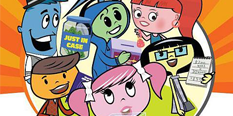 Cha Ching Games
🤔 What are Cha Ching Games?
Here you will find how to make money, save, spend and donate with 6 loveble characters, Zul, Prudence, Charity, Pepper, Bobby and Justin in a new Cartoon Network show for kids!
Cha Ching Games
In Today's category we will talk about money! Welcome to our new category games where you will find and learn some interesting things from real life but in a funny mode so all the kids will understand what's about. The title of category is Cha Ching Games and here you with our new friends will try to improve your knowledge in money managements skills. I think this show is one of the most important shows from Cartoon Network because here you will learn things that will help you in the future, and that's what count, and if you can do this and having fun, it's all good! Here you will find a lot of games like adventure, action, dress up, bejeweled, puzzle, coloring and more. From this show you or your kid will learn how to earn money but more important, how to save, spend and donate moneys because this is a cycle of money that all of us must know. The show have a bigger title but it's a little hard to remember Prudential of Cha-Ching Moneysmart Kids so we will say just Cha Ching Games. You may know if you see the show on Cartoon Network that Cha-Ching episodes last just 3 minutes, what it's very interesting. We will say some words about the main characters from Cha Ching Games like Zul who is playing on rhythm guitar and vocals and love all the cars that he sees. Zul have a big dream, to become the best car driver from Earth and a strong car like Ferrari 250 GTO. Our yellow friend Prudece is the lead guitar and play vocals too in our new Cha Ching Games category. She is wise and practical and she just love to save money, a thing that you will learn from her. Like other members from Cha Ching, Charity is playing on vocalist and she love to give and share what she have. She is nice and sweet with all people and she's main goal is to give how much money she have to charity and good causes, just like you! We think that you will like this type of games where you will have fun but in the same time you can learn some important aspects about money, how to earn and save them. The next character that i will talk about in Cha Ching Games it's Pepper, a nice girl that plays on keyboard and vocal. She is the spender of the group, she like to go on shoping and spend all the money so we have to learn from her that this is not the best thing in the world. Our little green friend is called Bobby and he plays on drums and vocal like all the characters from Cha Ching. He is not like his friends because when it's about money, he just can't think. We will learn with Bobby how to earn money easy and more important, how to save them. Our last member from the team is Justin, a character that dress like a rock star and it's blue. He love playing on his guitar and like other members from the crew, he vocals. That's all from this category that we know, so in Cha Ching Games you will learn with Zul, Prudence, Charity, Pepper, Bobby and Justin about the management of money. Have fun and come back if you are a true gamer because in each day we have new games for our players that play on GamesZap.com!