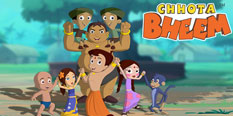 Chhota Bheem Games
🤔 What are Chhota Bheem Games?
Welcome to the Chhota Bheem Games category on our website, which is a category filled with so many amazing games, that we don't even know where to begin describing them! Well, we should instead invite you to check them out and let you discover them by yourself, and you will surely not be disappointed even in the least by your findings!
Chhota Bheem Games
Chhota Bheem Games is going to become without a doubt one of the most popular categories of games we have here on GamesZap.com, and there are many factors for this, including: the category is based on one of the most popular children's show currently airing in India, as it is a television programme airing on Pogo TV, and has been airing there since 2008, there are tens of games with these characters currently available, and not only there are many of them, but they are also of great quality and really fun to play, which is something we know from experience. The other reason why we believe that Chhota Bheem Games is going to become one of the most popular categories of games from our website is because we have made sure to gather all of these games, and even if you can find them on other websites, you can be positive that you can get the best collection of them only here, which we think is true for most of the categories we have, as we always make sure t curate our content, and that is why when you visit our website you are always welcomed by the best online games ever! Now, if you are from India, or maybe not, but you know of this series, or maybe even watched it, then there is no reason for us to convince you to play Chhota Bheem Games, because that is what you are going to probably do, or what you are already doing, and not even botherin with reading this description. The rest of you though, who might have neveer heard about this cartoon, and would like to learn more about it before making a decision whether or not you want to play Chhota Bheem Games, then you are invited to continue reading, because in these next lines we are going to tell you not only the premise of the show and who are it's characters, but we are also going to offer a glimpse inside the world of the games based on the show, so that you know what to expect from this page! We are positive that all those of you who are going to read these next lines are not going to waste the opportunity of playing these games, and we are sure that you will not ever regret the decision of giving the games a chance! Bheem is the name of the main character in the show, who, together with his friends, live in the fictional kingdom of Dholakpur. Not only do they live in this land, but they also always going on adventures in this place, most of the adventures including having to save and protect Raja Indravarma, who is the king of this kingdom, as the place is all the time attacked by all sorts of evil forces. Sometimes, they even get out of the kingdom and help people from other places, and the show always managed to re-invent itself and bring new and awesome adventures to the screen. While Bheem is a small nine-year old boy, he is more than that, since he is the leader of his group of friends, and that is because he is brave, strong, and intelligent, and he is so wise that many people in the kingdom, including it's king, come to him for solutions to the daily problems that they have. Well, doesn't the premise sound really interesting? Well, we certainly think so, and since we are sure that you do as well, let's get on to the main point of this page, which is the games, because we are now going to tell you what kinds of formats of games you will find here. Of course, this is not a definitive list, considering that the category is always going to be expanded and improved with whole lots of new games. Well, you can expect to find here cricket games, football games, quiz games, fishing games, treasure hunt games, skiing games, dress up games, tic tac toe games, sudoku games online, flying games, arrow shooting games, memory games, hangman games, and lots and lots of other formats, with our administrative team recommending each and every game, even those with formats of games you do not usually play, because that is how you get new experiences and have more fun. Well, with that being said, that was what we wanted to share to you about the Chhota Bheem Games category of games, so hopefully you are now interested in playing them! Remember to tell all of your friends as well that on our website they get to find and play Chhota Bheem Games, and not only that, but thousands of other amazing games, all of which our administrative team has worked hard to add and offer you!