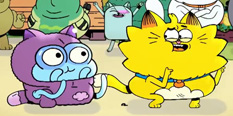 Counterfeit Cat Games
🤔 What are Counterfeit Cat Games?
We are very happy to be the first website providing audiences with Counterfeit Cat Games on our website, which is one of the most recent categories of Disney XD Games created by our team. All the Counterfeit Cat Games here are really fun and easy to play, so we invite you to start playing them right now!
Counterfeit Cat Games
Our team here at GamesZap.com is very happy to be able to present you with the wonderful Counterfeit Cat Games category, which is the latest Disney XD Games category that we have created here for you, knowing that you are really going to appreciate the fact that you can now find and play these games, as our website is the first to offer this great category! This show, Counterfeit Cat, started airing un the United Kingdom on Disney XD, all the way back in May, and it is only in June of 2016 that it started airing on Disney XD in the United States as well, meaning a lot more children have gotten familiar with this show, meaning more and more children and teenagers are browsing the internet looking for Counterfeit Cat Games. Well, luckily for all of them, they can now find and play these games right here, on GamesZap.com, where we are always up to date with all the fresh new shows and games. Well, if you are not up to date with Counterfeit Cat, and would like to know more about the show and it's characters before you start playing Counterfeit Cat Games, that's no problem at all, as we are going to offer you all this information right now! The show is centered around two characters, Max, who is a yellow cat, who is really lazy, like most cats usually are, and Gark, who might look like a cat at first sight, but that is only a purple costume of a cat, as Gark's true identity is that of an alien. This alien crash-landed on Earth, and ended up in Betty's house Betty being Max's owner, and since then, the two have been friends, and they go around on all sorts of crazy and surreal adventures, mainly because of Gark's alien abilities. Max likes to make use of this powers, without thinking of the consequences, of course, and Gark usually goes along, as he thinks that Max is a tiger, the bravest animal, even though you can clearly see how much of a coward Max is. Now you can clearly see from where the title of the show comes from, and that is the fact that Gark is a pretend cat. Sounds really interesting, doesn't it? Well, we sure do find this series very interesting and unique, and from the episodes we have seen of it, it is surely a great show, just as great are the Counterfeit Cat Games on our website, based on this show. So far, in the Counterfeit Cat Games you have the chance to find games like puzzle games, or memory games, but we are pretty sure that in time, the category is going to develop, and more interesting games are going to be added for all of you, and we are sure you won't regret playing any of them! We finish this description by wishing you all good luck at the games, which we hope that you will start playing right now, only on GamesZap.com!