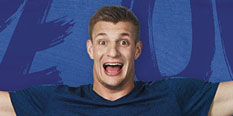 Crashletes Games
🤔 What are Crashletes Games?
Nowhere else will you get the chance to find and play Crashletes Games like on www.GamesZap.com, where all of your favorite Nickelodeon Games can be found and played for free! The Crashletes Games are all unique, fun, and really easy to play, so we hope that none of you are going to miss them!
Crashletes Games
It is only on GamesZap.com that you can find really unique categories like this one, entitled Crashletes Games, which is one of the most recent categories of Nickelodeon Games that we have created for all of you, and it is only the most recent in the slate of new categories based on shows from this network that we have added recently on our website. Well, we reckon that most of you were not expecting to find a Crashletes Games category on our website or anywhere else on that matter, and those who watch the show know why. That is because Crashletes is not a scripted show with a certain plot and characters, but it is a reality television show, with a focus on sports. These type of shows don't usually have games created for them, but we want to change that, which is why we had to create the Crashletes Games category at all costs. The show has a host, naturally, and that host is none other than Rob Gronkowski, Super Bowl Champion, who is really liked by kids and teens alike, has a great personality, is very funny, so he is most suited to host a show like this. But, what happens in Crashletes, you might ask yourself? Well, in every episode you see different videos, which can be home-made or bloopers from different sporting events, in which the athletes depicted there fail in what they are doing, making you laugh a lot. It was kind of obvious, since the title of the show is a combination of the words crash and athletes. The ones featured in the show can be amateur athletes, wannabe athletes, animal athletes, or no athletes at all, but regular people. Each video is more fun than the other, and they are all centered around sport. Alongside Rob, in the show we also have Brandon Broady, an up-and-coming comedian, and Stevie Nelson, another comedian with a love for sports, and especially videos of animals. We are sure that many of you are watching this show, and are very happy for this category, but even if you have not seen one episode, you can play Crashletes Games with no problem at all, as most of the games on this page are going to be puzzle games, coloring games, differences games, and other games with similar formats, meaning that they are accessible to each and every one of you, even if you have not seen the show. Excited? Well, we hope you are, because we put a lot of work into this category, and we did that only for your enjoyment and fun, which is what we hope that you will have by playing all the Crashletes Games on our website! Don't forget to like our website on facebook, and tell all your friends of the great categories that they could find on our website, which have games that they can find nowhere else, so they are guaranteed to have fun! Game on, everyone!