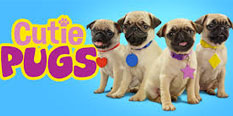 Cutie Pugs Games
🤔 What are Cutie Pugs Games?
It is only here that you get to find and play the best online Cutie Pugs on the internet, a category that is not available in many other places, so we hope that right now you will be giving the games a go and enjoy them greatly!
Cutie Pugs Games
If you're on Friv Games Today, you're in the best place possible, because only here you get to find and play online games that you could not do anywhere else, because we are proud to say that we have one of the biggest databases of online games for you to play here, and if you visit our website day after day, you can clearly see that this base is only getting bigger as time goes by, as we make sure to create new and interesting categories as often as we can. One of these categories we are talking about is the one on the page of which you are right now, the Cutie Pugs Games one. We don't know how you reached it, by being a fan of the show and searching the games based on it and reaching our wonderful page, or you found a game browsing our website, or thought the category's picture was interesting. Or, who knows, maybe you just really love pugs and dogs in general. Well, no matter the case, it is great that you are here now, and we're sure that you're going to be having a great time here even if you've not seen the show, since all of our games stand by on their own completely, and can never disappoint, since we love bringing you only content of the highest quality. For those of you who have not seen this show before, and that is a reason to keep you away from playing Cutie Pugs Games online, we invite you to read this article to the end, from where you learn what the show is about, learn information on the characters, and of course, when we're done with that and you will already want to play the games, you will also find out how more on the kinds of games you find here free of charge. Let's begin then, shall we? Dee Dee is a very lively five-year-old who loves nothing more in this world than her family of five pugs who go by the names of Penny, Petey, Poppy, and Pablo, all of them being puppies, making them even cuter than normal pugs are. Together they play, learn about the world, explore it all around, and even talk to one another if you were to believe it. Magical and interesting things are happening around the pugs and Dee Dee all the time, and the children who watch their show get to both have fun and be entertained, as well as learn a lot of valuable lessons at the same time. That's basically what the show revolves around, and as for the friv Cutie Pugs Games that you will find here, which must make you very interested, well, there are not that many of them at this time, since the series is quite a new one, but we do have hide and seek games here as well as animal washing games, all of which we have no doubt at all you will love a great deal, and if you want to be the first one to play any new game with these characters that appear on the internet, coming to our website is the way to go! This category has some of the cutest animals in the world, interesting and easy to play games for children, so you have no excuse not to give the games here a chance right away, and see for yourselves why we wanted to have this category here in the first place! We're positive that when you are finished playing these games you will be very happy. Of course, this is just one of many categories we currently have available on our website, and we really hope that you will not be stopping here, but that you will be checking out as many other categories we have here as possible, since we have a feeling that you are up for trying out more things and continue the fun that only friv games online can provide. When you're done playing Cutie Pugs Games, also remember to invite your friends here to play these or any of our other games, they are not going to regret it!