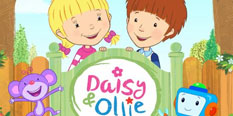 Daisy and Ollie Games
🤔 What are Daisy and Ollie Games?
Come and play Daisy and Ollie Games on our website, the only place you can do so at this time, as we are the first ones to have created this series and added games in it, making the fans of the show happy, and you can be happy with these games even if you have never heard about the show before, trust us!
Daisy and Ollie Games
It is great that you now find yourself on the page of the Daisy and Ollie Games category, which is the latest category of Cartoonito Games that we have created for our website, and a category of games based upon a show from this channel that you have not found on any other website before, that is guaranteed, since the show only recently started airing, and we are quite sure that we were the first ones to add games based on it, proving once more why it is Friv Games Today the website that you should be visiting daily if you are looking for the best new games on the internet, and if you want to be sure that you find and play games based on the latest shows on your favorite channels, since that is usually the case when it comes to our website, and we are sure that the fact that we are so fast in creating categories and filling them with games is what brings so many children back to our website daily, and because they keep finding new and great games to play, they never leave. Well, like we said, Daisy and Ollie is a brand new show from Cartoonito, so obviously it is aimed primarily at preschool children, and while that is generally the case for these games as well, we can guarantee that you can play them even if you are older, especially since the first addition to the Daisy and Ollie Games category has been a memory game, and memory games are great for anyone, no matter their age. Well, we realise that since this show is in it's infancy, there are not that many fans of it, but something is telling us that this show is going to be around for a long time, and that this category will thus be of interest to many. Of course, at the same time, some of you might be reading this in the future, compared to when we have written this, and you are already fans of the show. If that is the case, then nothing should be holding you back from playing our online Daisy and Ollie Games for free right now, as there is nothing more for you to learn, but only to play. At the same time, you might have arrive to this page without knowing anything about this series, and if that is the case, then we recommend that you read this description, as in the next part of it you are going to learn what the show is about, who is the show about, and certainly after you learn of all these things, you will be very interested to play these games and have fun! Obviously, the show is going to follow the adventures of two main characters, a boy and a girl, who are named Daisy and Ollie. In each episode of the show they ask themselves all sorts of questions about themselves, and even more so about the world around them. In each episode we see them going on adventures where they find answers to their questions, all the while having fun. Obviously, this is a great way for children who watch the show to learn about the world around them as well, since now they do it from the characters that they love seeing on the screens, and also, this show encourages them to have questions about the world around them, so this is great for anyone, would you not agree? It also has great animation, interesting characters, great voice actors, so all of the ingredients needed for a great show! Since everything that had to be said regarding our category of Daisy and Ollie Games has been said, now all that is left for you to do is to start playing these games at once, and have lots and lots of fun like it is possible to have only on GamesZap.com, the best place online that you can visit and play online games. Of course, at one point, you are going to be done playing these games, and when that happens, you need not fret at all, since plenty of other categories exist on our website, and thousands of games, which we hope you are going to check out, as not to miss out on the immense fun that is possible to have here! Remeber that many of your friends might also be watching this show, but they have no idea that is a website out there that has online games for free with their favorite characters, so do not hesitate sending them here, where they will not only find these games, but thousands of other ones, as GamesZap.com is always expanding, and the Daisy and Ollie Games category is only one small step towards this goal!