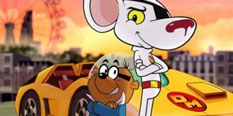 Danger Mouse Games
🤔 What are Danger Mouse Games?
Our website is the best if you want to play Danger Mouse Games, the most recent category that we have created for all of you, where you will join Danger Mouse, the world's best secret agent in all of his incredible adventures. Not one of our Danger Mouse Games should be neglected, so start playing them right now, and have fun!
Danger Mouse Games
In 2015, BBC premiered Danger Mouse, a continuation and also a remake of the 1981 series of the same name, making for a really fun and funny adventure show, featuring some really interesting characters who have all sorts of great adventures. Well, in 2016, the series was renewed for a second season, meaning that the first one was successful, and meaning that there are plenty of fans of the show out there. If there are fans of a cartoon somewhere in the world, then that means that there are those who want to play games based on it, which is exactly what you can do now on GamesZap.com, because we have created the Danger Mouse Games, and we can proudly say that we are the first website to do so, which shows once again how preocuppied we are in offering you as great a content as possible! We knew that there must be many of you wanting to play Danger Mouse Games, which is why we created this category, written this description, and added or created games in it, for your enjoynment. We know that the show is currently airing only in the United Kingdom, meaning that it is natural that there are not that many Danger Mouse Games available, but we made sure to gather as many as possible, and also create some, as you know that we love to bring you new original content, which you can find nowhere else. Well, if you are from outside the UK, and would like to know more things about the show before you start playing the games, you just need to read the next lines in the description, and you are going to find out everything you need. Danger Mouse is the world's greatest secret agent, who, together with his sidekick Penfold, do their best to protect the world from whatever dangers are threatening it, which is where his name comes from. He is not alone in his battle against evil and danger, but is helped also by Colonel K, who is his boss, and Professor Squawkencluck, and with the tools and knowladge they give to him, and the help of his sidekick, Danger Mouse can face any threat, like his arch-nemesis, the villain known as Baron von Greenback. The adventures presented in the show are always fun and exciting, just like the world of secret agents is, and we know for a fact that there were many who enjoyed this series. Whether you have seen the show or not, it does not matter and does not affect you playing Danger Mouse Games at all, as they can all be played by anyone. You will find some really fun adventure and action games, puzzle games, coloring games, and many others, in order for you to never get bored while on this page. Look nowhere else for fun Danger Mouse Games, because it is only here that you will get the chance to find them, so start playing one right now, and start the fun!