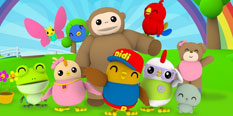 Didi and Friends Games
🤔 What are Didi and Friends Games?
You can now come to Friv Games Today and find and play for free the best new Didi and Friends Games online, games based on the famous internet show for kids that so many lovers all over the world, where having fun is guaranteed like with all our other categories of games for kids!
Didi and Friends Games
Friv Games Today is always up to date with the latest new series on the internet, since we know that not just television is where children get their favorite media from, as online shows have become more and more popular, which is why you can even find and play games based around them, something that you will get the chance to do right now with the Didi and Friends Games series, based on the YouTube channel with the same name, a channel that has managed to grow so big that shows, merchandise, games, and movies based on the characters have been created, as well as online games, games that you will now be able to find here first, showing you again why this is the best place for having fun! This YouTube channel for children started with cute small videos with singing, songs both in Malaysian and in English, since Malaysia is where this franchise comes from. One of its songs became a hit worldwide, a viral sensation, and know even more adults and children alike know about it. The main character that the series revolves around is Didi, a yellow chicken who is a boy, who wears a blue shirt and a red hat. His two closest friends are also chickens, such as Jojo, whose fur is white, wears green clothes and purple glasses, as well as Nana, who is a girl who wears a pink dress as well as a pink headdress. Side but still important characters include Mr. Atan, who is an orangutan, or Bingo, a gray cat. These characters and other cute animals get together to sing, to play together, and to learn valuable lessons about the world and themselves, which is why the children really love watching their antics on the screen, and now they are going to love it even more because they have the chance of interacting with these characters they love so much directly, only through our amazing friv Didi and Friends Games. There will be a game called 'Guess What?', where you have to identify the shapes of the characters correctly and match them with the dark shadow. Another game is Didi and Friends Coloring Book, where it is quite obvious that you have a book of the show's characters that you can color according to your imagination using the different colors available, so if you've ever wanted these characters to look differently, you can now make that true. 'Connect the Dots' is another fantastic game from the series, where you learn how to count properly by connecting the dots in the order of their ascending number, which is a great way to learn how to count, and a very fun one. With this being said, you now have a clearer picture of what this amazing category of Didi and Friends Games online has to offer you here, so playing the games on this page right now is something that we hope you do right away, and we hope that you don't stop here either. Your friends might not know of this category, or maybe of our entire website, so make sure to invite them over here, showing them how much fun they can have with the thousands of brilliant games we offer, and there's no way at all they will not love it!