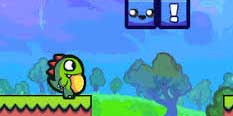 Dino Shift Games
🤔 What are Dino Shift Games?
The Dino Shift Games category is one of the best new categories we could have created for our website, in which we put our faith that is going to offer lot of fun for all of our visitors, which is why we invite you to get ahead of the curve and start playing them right now, and you will not regret it!
Dino Shift Games
Welcome everyone to the Dino Shift Games category, a category if Dinosaur Games and Yepi Games which we have just created for our website, and which we have done so because we have played both the games that are so far present in the series, both of which have been extremely fun to play, so we thought we should not waste the opportunity of bringing these games over to our visitors as well, since we want to make sure that our website contains the best new games on the internet, and for sure these Dino Shift Games are going to represent an amazing addition. Combining dinosaur games with platform games and collection games can only mean good things, and we are very happy that these games have come to exist, and we are very thankful for the team which created them in the first place. They surely created these games because they want to be played and enjoyed by countless of children all over the internet, so we are very happy that we can have a hand in that, since now that these games are on GamesZap.com they are exposed to a very big audience, an audience which is always thirsty for awesome new online games. We know that for sure because we have recently added a lof of games similar to these ones, and by that we mean games that are original and are made solely for the online world, having no connection to any television show or movie. We know that children also enjoy playing dinosaur games online a lot, so we are sure that this is going to be another factor which is going to make the Dino Shift Games category one of the most popular on our website, in addition to it being very fun to play! Now, if you happen to have come across the games from this category before, maybe only one though, then you already know that it is worth your time to play them, which we think is what everyone who plays Dino Shift Games thinks, because if the first game in the series had not been a popular one and a hit, we are sure that there would not have been even talks about a second one. Now, on the other hand, if you have never encountered any of these Dino Shift Games, and you would like to learn more about them before going forward, you are welcome to do it, by reading this next part of the description, in which we are now going to explain how the games works, focusing on the first game, obviously, and we will let you discover the new things in the second one by yourself. Firstly, you should know the controls which you will be using in these games: you are going to use the three arrow keys to move left, right, and jump, and the Z, X, and C keys to change colors. In each level of the game your main point is going to be to reach the exit, and you should try and do it fast, although you are not going to be timed or anything like that. Along the path you are going to find jellys of three different colors, and you should grab them all in order to advance to the next level of the game. To do so, you are going to have to shift your color of the dinosaur into that of the jelly, or else you cannot grab it. Obviously, like we told you before, to change colors you are going to use the keys that we told you about earlier. Of course, in further levels, things are not going to be so easy, as you are going to be forced to deal with all sorts of traps, obstacles, or enemies, and you should give it your best to avoid them, in order to not lose the game, and have to start all over again. Of course, know that you have read all of this, we are sure that once you start playing the games, you will have absolutely no problems in doing so, and playing them with a lot of ease is going to only make the experience of playing them a lot better, would you not agree? Well, that was about everything that we wanted to tell you about this category of Dino Shift Games, so now we want to invite you all to start playing the games, because you can read about them all you want, as it will not compare in the least with playing them. Don't forget to tell all your friends about them as well, and about our website, because inviting them over to our website means inviting them to a world of fun, fun which they can have daily, for free!