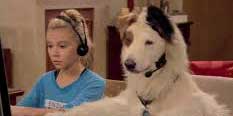 Dog with a Blog Games
🤔 What are Dog with a Blog Games?
It is only on www.GamesZap.com that you can find and play the most awesome Dog with a Blog Games on the internet, games which you should really not miss out on, since we have tested them, so we know for a fact that you can have a terrific time playing each and every one of them.
Dog with a Blog Games
Welcome everyone to the Dog with a Blog Games category on our website, where our administrative team wants to bring you all as many awesome games as possible, since we know that lots of them are currently available on the internet. We thought it would be best if we create a category of Dog with a Blog Games, since we have seen that most of the websites that host these games have not managed to bring all of the available games with these characters on their websites, which is what we are certainly going to do here, as we always make sure that our categories are complete, so that you can have the most fun possible. This is also a category of Disney Channel Games, and we know that the shows that are airing or used to air on this network are always really popular, they reach parts all over the world thanks to the global reach of Disney, and of course, the games that are then based on their shows are also widely searched for on the internet, and highly popular all the time, so we have no doubt that the same is going to be the case with this category of Dog with a Blog Games as well. Of course, this is most true for series that are currently airing on the network, which is not the case for Dog with a Blog, as this show used to air from 2012 to 2015, but we think that even if the show is off the air, there are still people who will be interested in these games, as they might remembeer the show from back in the day, they might have discovered it online recently, or, like it is often times the case, some of you might simply be interested in playing great online games, no matter what the source material is. If that is you, then surely you will be satisfied with this page, as it contains some high-quality games, which is something we have tested, as we always play the games we bring here beforehand, to make sure that only the best get in, and Dog with a Blog Games are certainly some of the best online games that you will be able to play on our website. If you have never heard about the show before, and you would like to learn more about it before beginning to play the games, then you are invited to read the next part of the description and find out all of that, after which we will also give you details about what kinds of Dog with a Blog Games are currently available on this page! The show follows a blended family, as a girl and her mother move in with the family of the man that her mother just married, who also has two chidlren, and now they have to live together. Well, if not enough things were new and surprising in their lives, now they also found out that their new dog, Stan, is a dog that can talk. Who would have tought of that? Of course, only the children know about this thing, not the parents. Now, we get to the part that inspired the title of the show, which is that Stan also runs a personal blogs where he writes about the lives of this newly formed family, which has a lot of interesting stories all the time, and viewing them through the eyes of a dog is even more interesting and unique, as not many blogs have such a perspective on them, would you not agree? Well, we really hope that you have found this premise interesting, and the next thing you want to do is play the games, games about which we are going to tell you more things right now. This category is pretty varied, as it includes adventure games, skill games, puzzle games, animal washing games, animal doctor games, and even math games. One thing is certain, no matter which games you choose to find and play on this page, we have no doubt at all that you are going to be satisfied, and that you will have a fantastic time from start to finish. That was everything that we wanted to tell you about this category, and hopefully it was enough for you to browse this page right now, and choose a game to play. When you are done with our Dog with a Blog Games, remember that we have plenty of other categories on our website, one more interesting and fun than the other one, which we invite you to check out as well, in order to keep on having fun on our website, which is really possible only here. Good luck, and remember to also tell your friends about our website!