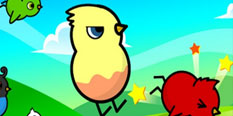 Duck Life Games
🤔 What are Duck Life Games?
We have made sure to gather all of the amazing Duck Life Games on the internet on this one page, and we highly recommend that you come and play them all right now, and you will be having fun unlike you have had with any other games on our website, guaranteed!
Duck Life Games
Duck Life Games is an amazing category of Armor Games we have created for our website, and in which you are going to be able to find quite a few games at the moment of this writing, which is what made us create a separate page for these games, since if a series of games has more than two games, we usually tend to create separate pages for them, making it easier than ever to find those games that probably many are looking for, because there can't be three games in a series of the first two ones were not popular and great, don't you think? Well, that is certainly the case, and we are very happy we have created the Duck Life Games category, because we have seen that the games in it have been very well received on other websites, so we are positive that they will prove popular here as well, where we always make sure that as many awesome games as possible are added all the time. These games are going to be primarily put in the Armor Games category, which we invite you to visit when you are done with these games, because you will find them, in addition to tens of other amazing games, as we think that no matter if you are a boy or a girl, or what your age is, in that category you are going to find something you like playing. Another reason why we think that these games are popular is because they are duck games, and usually animal games are great, but ducks, especially ducklings, have always been some of the most cute animals in the world, so of course you would want to play with them. Of course, another very important reason is the gameplay that these games have, which we think is really fun and interesting, and with each new game something new and awesome is added, maintaining the franchise fresh, so even if you play all of the games one after the other, you will not feel bored or like you are having a repetitive experience at all. Now, we are going to explain that gameplay right here and now, in case you have never before played Duck Life Games, so that when you start playing them, you will do a great job. Of course, we will be talking more about the first game in the series, but it's the basic things that you have to get used to, because with the new additions you will get used to when you play each game in part. The story is that a tornado took away everything that you had at the farm, except for duck eggs, which resulted in ducklings, which you are going to go racing so that you win sums of money for every win. To do so, you will first have to train the ducklings to make them stronger, more faster, and so that they have more energy. To do so you are going to use the arrow keys to jump over obstacles that are in your path, and not only that, but you should also grab coins, coins which you will then be able to use and buy all sorts of things to make your ducks better. You can train their running, their flying, and their swimming, and you should train all of these aspects, since you will be using all three of these actions in the races, so the better you are trained, the more are the chances that you are going to do a great job and win. Get each statistic to the maximum, and then you are surely going to win no matter which race you take part in. Of course, with each new game races get better and thougher as well, but the tracks also get more interesting, the gameplay more fun, and with each new game you are going to have an even better and amazing experience. One thing is certain, we recommend that you start playing these Duck Life Games from the beginning, and you will in no time go through them all and end the series with a great feeling of having had a lot of fun. Now that we have told you all of these amazing things about Duck Life Games, we sure hope that there will be nothing holding you back from playing the games, and if at the beginning of this reading you were not sure if you want to play the games, we sure hope that you now want to play them. What are you waiting for? These amazing and free Duck Life Games are right in front of you, so play them, and do not hesitate even for a second to share them with your friends on social media, or simply tell them about them and our website!