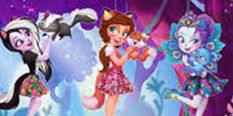 Enchantimals Games
🤔 What are Enchantimals Games?
Only here can you find such amazing Enchantimals Games like the ones you can see on this page, so waste no time at all, and begin playing the games right away, having a great time, like you do with all of our other games as well! Also, do not forget to tell all your friends about these Enchantimals Games as well! They want to have fun too, right?
Enchantimals Games
We have created the Enchantimals Games category on our website because of our love for games, as we are sure that this is going to become one of the most visited categories on our website, which is the reason why we knew we had to create the category as soon as possible, and since we have finally created it, we are very happy. You now have our website to count on when it comes to any new Enchantimals Games that might appear on the internet, because like it is usually the case with the categories that we create, our website is always the first one to bring children new games in them, which is what is going to happen with this category as well, since we are also one of the first websites to create the categories. Like you probably know, if you have been visiting us for some time, our website is aimed both at boys and girls, but it seems that there are sometimes more games for girls out here, which we think is awesome, since they are usually very fun to play. Well, we are telling you this because the Enchantimals Games category is another one that is geared mainly toward girls, although we gladly invite boys as well to come and play these games, since we are sure that in this day and age, they can easily enjoy them as well! Another thing that we do on our website is the fact that we make sure to bring children games from all sorts of media, since there is not only television and movies out there, but also all kinds of other places where children find fun. Well, one of those is the classic one, which has been around since there have been children, which are toys, and toys are now more sofisticated than ever. It is not enough in these days to give a child a certain toy, and he will play with it, because it is also important to create all sorts of world for them to play in, enchaning their imagination and their creativity. Well, that is what Mattel is doing with their series like Monster High and Ever After High, and now their latest one Enchantimals, which is sure to charm millions of girls all over the world with their toys, their animated specials, and of course the wonderful online Enchantimals Games, games which we will make sure to bring you all on our website! If you have been unaware of this new franchise from Mattel, but you would like to learn more about it before you begin playing the games, we invite you to keep reading this description, since we are going to provide you in it with all of the information that you require! This franchise focuses on a group of girls which have a real bond and a really deep connection with their pets, even sharing some of the traits that the animals have. They live in a world full of adventure, day and night, and where they make anything possible though friendship, so the dolls teach very important lessons to the girls playing with them. Let's see who the characters are then, shall we? It is important to know them, since they are the focus of these Enchantimals Games, so the more you know the better! Felicity Fox has the traits of a fox, which is also her pet, and she is always curious and ready to go on an adventure. Petter Peacock has really fashionable feathers, and she wants everyone to be proud like she is, and her pet is a peacock named Flap. Bree Bunny and Twist are up next, with Bree being obsessed with arts and crafts, always trying to make a new project come to life. Next up are Sage Skunk and her skunk pet Caper, with this girl being very quick to find solutions to every problem, and a real prankster sometimes as well. Finally we have Danessa Deer, with her pet Sprint, a deer, obviously, who is always ready to encourage her friends, and for her, actions really do speak louder than words. With such a cast of characters, we have no doubt at all you will have amazing time playing Enchantimals Games, about which we are going to talk right now. Of course, like it is to be expected, most of the games here are going to be dress up games, but we are sure that in the future, there will be plenty other types of games in addition to Enchantimals Dress Up Games. One thing is certain, our website is always going to be the best place for you all to find and play new Enchantimals Games, so we hope you will begin doing so right now, as to not let fun wait on you even one second!