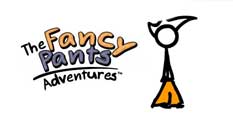 Fancy Pants Games
🤔 What are Fancy Pants Games?
Come and play the most awesome Fancy Pants Games on the internet right now, only on our website, where a great time is always guaranteed, especially with these Kizi Games we have added, which we highly recommend to kids of all ages!
Fancy Pants Games
Fancy Pants Games is just one of the many amazing categories of Kizi Games that we have created for our website, but since you are now on this page, you should set aside the other categories and concentrate on this one, because we can assure you that you will be able to find a lot of awesome games to play here, all of which we highly recommend, since if we would not be sure that they are of great quality and really fun, we would not have added them in the first place, as we want to make sure that our website is synonimous with high quality and fun games. Like you may have noticed recently, we have started to pick up on the best games that can be found on some other amazing websites on the internet, as we know how important it is to have a diverse website, and since we have focused so far almost exclusively on games based on television shows or movies, we now want to be able to offer something different to our fanbase, and that is why we are making sure that classic series of games from the internet are going to find a home on our website, and there will be no better place for you to play them all, trust us when we say that! Fancy Pants Games is a series of flash games that has been around since 2006, which is quite a long time, so of course we are happy that we get to offer you all these games, especially since we have noticed that there are some new games in the series, which could be called remakes of the older games, or remixes, so this series of games is getting some fresh air, something which is certainly needed. Now, if you have played games from this series before, at least one of them, then we do not have to convince any of you to try out the other ones, so we hope that you will not waste any time reading this description, but simply go on and play the other games. Of course, we created this category for the group of people who have never before played games in this series, because we are sure that they are the most curious about such games, games which we would be delighted to offer them, just like we are delighted to offer all of our games. Now, let us start telling you what the games are about, so that you can begin playing Fancy Pants Games immediately! First off, we are going to begin with the controls that you need to know about in these games, or at least the first one. You will use the left and right keys to move, and with the S key you are going to jump. Press up to open doors, and down to duck if needed. While on a slant or landing, press the down key to duck and roll. Like you are going to notice immediately, one major aspect of this series of games is that they have a very interesting animation and graphics, as they look like they have been drawn by hand, with the main character even being a stickman. Although, his pants have been drawn very nicely, which is where his name and the name of these games come from. You are going to go on all sorts of different worlds in each games, worlds in which you venture and have fun. You will be collecting all sorts of things to get points or powers, but you will also have to avoid not only obstacles or trap that might get in your way, but also all sorts of enemies as well, because if you touch them too much, or if yo hit too many obstacles, you are going to lose the game, something you surely do not want happening. There is not enough space for us to tell you about all of the Fancy Pants Games we have, so we hope that you will give them all a try, as that is the only way that you are going to have guaranteed fun, like you always have on our website. Now that everything we wanted to tell you about this category has been said, we invite you all to start playing Fancy Pants Games, and we have no doubt at all that you are going to have an amazing time from beginning to end! When you are done playing all of the games on this page, do not hesitate to visit the other categories of games we have, as they are all full with many other brilliant games, all of which we recommend, since we have them here, meaning that they can only be awesome!