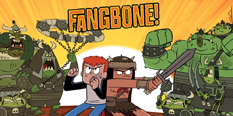 Fangbone Games
🤔 What are Fangbone Games?
If you are looking for Fangbone Games, look no more, as right here, on Friv Games Today, you have the chance to play all the most awesome Fangbone Games on the internet! Color, solve puzzles, and go on adventures with Fangbone and his friends, right now!
Fangbone Games
Fangbone Games is the newest Disney XD Games category which we have created for you on www.friv-games-toda.com. where we want to offer you the most rich content of online games which you can play for free! Because we want to be here for you when a new cartoon or live-action show starts, so that you can immediately start playing games based on that respective series, we tought that it would be best to create for you the Fangbone Games category, which is a category of games which we invite you to explore, and play the fun games which we have added and which we will continue to add as soon as new games are made available. The Fangbone! show is going to be aired in the U.S. in May 28, 2016, and by then, you can rest assured that you will already be able to play fun Fangbone Games, only here, on our website! As with all our games categories, in this description, you are going to find out more things about the Fangbone Games category, about the cartoon on which it is based, it's great characters, and of course, about the games which you will be able to play here, for free! The show centers on a nine year-old kid named Fangbone. If you thought that his name is unusual, that is because he is not a normal kid, but a barbariand warrior from the land of Skullbania. This character is put in one of the most usual places, in the third grade class of the Eastwood Elementary. Of course, his interactions with the normal students will of course be very funny, crazy, and you will not be bored one second of Fangbone's adventures. Just imagine a child raised like a warrior, going at a school with usual nine year old kids. Bill, one kid from the class becomes Fangbone's sidekick, and helps Fangbone in his mission. What is his mission? Well, Fangbone came to the school in order to track down and defeat Venomous Drool, who he has to defeat in order to save his native land. With a premise like this, what is not to love? Well, we know that you are going to love the Fangbone Games which you find on this page, because we play them all before we add them, and we can guarantee you that they are fun and urge you to play them right away! You will have coloring games where you will color the characters however you want, memory games where you have to match the identical tiles, or puzzle games for you to solve. Of course, after Fangbone starts airing, and it's fanbase grows, you will be able to see even more fun Fangbone Games, only here, on Friv Games Today! Well, there is no more things about the Fangbone Games category which we should tell you, so we encourage you to start playing these fun games right now!