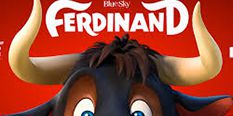 Ferdinand Games
🤔 What are Ferdinand Games?
The Ferdinand Games category is based on one of the most special and beautiful animated movies of 2017, and just like the film is a high-quality one, these games are as well, so we recommend playing them! Only here can you find so many awesome Ferdinand Games, so start playing them right now, and let the fun begin!
Ferdinand Games
The Ferdinand Games category is one of the latest categories of games based upon an animated movie that we have created for GamesZap.com, and not only that, but we are also the first website to have created this category, showing you all once again that when you want to find the best new games on the internet, the best place to find them remains our website, and we are always going to make sure we update our content and bring you as much coll new games as possible. We are extremely weary of the many animated movies that seem to run in cinemas every year, because we know that many of them bring in a large audience, not only of children, but their parents as well, and when one of those movies becomes a hit, all the kids want to play games based on that movie. Well, we hope that is going to be the case for this movie as well, Ferdinand, because we are developing a category of Ferdinand Games which we are sure is going to be diverse and large, and all those who visit it are going to find at least one game to their liking, if not many more in fact. When we have written this description, there were still a few months until the release of this movie, which means that at this time, there are not that many Ferdinand Games out there, but since we have already found one, we hurried in the creation of the category, because if a game is already available such a short time after the movie it is based upon dropped it's trailer, we are sure that many more of them are going to be created up until the point of the release of the movie, after which, if it is popular, the number of games is only going to increase. Well, no matter the case, you can rest assured that the best place you will be able to find and play Ferdinand Games is going to be our website, as we are going to be on constat watch to make sure that the new games based on the movie are brought to you with the speed of light! Now, if you are reading this at a time after the release of the movie, and you know all there is to know about it, then we recommend you jump straight to playing the games. Of course, you can play Ferdinand Games without knowing anything about the movie, since it does not affect the way you play the game even one bit, since the games are pretty much stand-alone. But, if you want to learn some things about this delightful motion picture, we invite you to keep reading this description, because we are now going to tell you what it is about! The title character of the film, and it's main one, of course, Ferdinand, is a bull, and unlike most bulls, he is one with a really big heart, making him one of the least threatening bulls ever. Still, because of a misunderstanding, he is mistaken for a beast, so he is captured and taken away from his home, the only place he knew all life. So, that makes Ferdinand decided to go on an adventure and do his best to return back to his family, and in order to manage that, he gathers up a team of animal misfits, together with which they are going to have an amazing adventure, one we are sure will be worth watching on the silver screen. You know what else is worth doing? Playing Ferdinand Games, of course! This category began with a memory matching game with cards, but as we move closer to the release date, we are certain that more games will be added, like puzzle games, coloring games, hidden objects games, differences games, and all sorts of animal games, since animals are present all through the movie. Of course, we truly believe that no matter which games you choose to play on our website from this category, you are going to have an amazing time doing so, like it is the case with most, if not all of our categories as well! That was about everything that we had to tell you about this category, and we hope that everything we have written down here has helped you make a decision on whether or not you want to play Ferdinand Games, and if you came here to have fun, then trust us, playing these games is definitely a solution. When you are done, remember to check out the many other categories we have as well, and don't forget to tell your friends that games based on this movie can be found on GamesZap.com, where they will also be able to have immense fun!