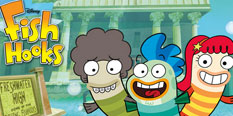 Fish Hooks Games
🤔 What are Fish Hooks Games?
Everyone is now invited over to the Fish Hooks Games category, which is a category of Disney Channel Games we are very happy to have created, as we realize that these games have not been available in many places for a few years now, so we have made sure to share them with you, making our website even better than it already was!
Fish Hooks Games
We now want to welcome each and every one of you over to the Fish Hooks Games category on our website, which is a brand new category of Disney Channel Games we created for our website, where we have absolutely no doubt at all that you are going to discover plenty of fun games to play and to your liking, which is the case with all of our categories, for that matter, since we have worked hard in order to make sure that we have the best content possible when it comes to online friv games for free! Recently, we have been creating more and more categories for our website, as we want to make sure that our place is expanding, as we know that there are more and more visitors coming here looking for awesome games to play, and we want to make sure we provide them. That is why we have been looking towards animated or live-action series that are no longer producing new episodes, are just going into re-runs, or have finished already for a long time. We believe that as long as a show has online games available on the internet, we have to make sure we share them with you all, in order to provide you with the chance of having fun with them, as we have realized that many of these categories and games are not available in many other places, meaning that you need a place for them. That place is our website, and you are now invited to play our Fish Hooks Games whether or not you are familiar with the show or its world, as you are guaranteed to have plenty of fun with the games, just like we can say we have had too! Of course, if you wish to learn more about this show, worry not, as you can read this article to the end, from which you find out what the show is about, who are the main characters in it, and of course, you also get to find what kinds of online Fish Hooks Games for free you will be able to find here, and something tells us that after reading this completely, you will have no problems playing the games at all! A fun fish by the name of Milo is the main character of the series, with other characters in it including Oscar, his nervous brother, Bea, their best friend who is always over the top and dramatic with everything, and whom Oscar likes a lot. This trio of main characters attends the Fresh Water High school, under the water, of course, but not in the sea, but in an aquarium in a pet store by the name of Buds Pets. The show follows the daily adventures of these three characters, who go on trips, have to deal with school, teachers, and homework, deal with things like love, and always meet new characters, and get put in different and new situations, and we believe the fact that this show has an adventure that never ends is what has drawn so many people towards it. The category is going to be diverse, as it is going to feature adventure games, skill games, action games, puzzle games, memory games, coloring games, and more. Some of the titles we want to mention here are Soap N Swim, Icewater Bounce, Food Court Frenzy, Fish Coaster, Fish Hooks Minisodes, and more. Now, with everything that we have written here so far, we hope that we have convinced you that playing these games is totally worth it, and giving them a chance is going to be the next thing you do! Of course, you should remember that we have hundreds of other categories here, each one filled with plenty awesome games for you to play, so it would be a real waste of time if you missed them, so when you are done playing the Fish Hooks Games on this page, make sure to browse our categories, and find even more awesome games that could be to your liking! Of course, you might have friends that would also be interested in these games or any other brilliant games for that matter, so it would be a shame if you would not invite them over also, because the more of us are here, the better it is going to be for everyone, and the more fun our website becomes at the same time. We will be here daily, making sure that new and awesome games are being brought over to you, so do not hesitate to miss them for anything in the world, and come back here day after day!