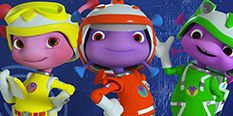 Floogals Games
🤔 What are Floogals Games?
Floogals Games like you can find on our website right now you cannot find anywhere else, so browse it right now, pick up a game you find interesting, and let the fun begin! We have made sure to bring only awesome Floogals Games, so each one of them is worth your time, just like all of our games should be given a chance as well!
Floogals Games
Floogals Games is a brand new category of games our team has created for everyone on our website, since we know that these Floogals Games online are beloved by a great deal of children all over the world, just like the show is, so we knew that our website had to have such a category, especially since we have managed to find a great deal of online games to bring into it, so we have all the hope in the world that we are going to make a really awesome category here, in which you are never going to be able to get bored! If you have been visiting our website for a while, you know that our content is very varied, as we are trying our best to offer games for children of all ages. Among those that visit online games websites, preschool children are definitely the biggest group, which is fortunate, because this Floogals Games category is aimed mainly towards them, since Floogals is a show airing on Sprout, which is one of the newest networks for preschool children animated programs on the air, who have been churning one great project after the other, and since Floogals is the highest rated show on their network, we have no doubt at all that there are a lot of children wanting to play these Floogals Games, especially since the show has already been picked up by many other television stations all over the world, meaning it is a global phenomenon, and you know very well that our website is a global one, so it features games that are meant to reach everywhere, and be played by a number of people as big as possible. We keep saying that the games are aimed towards preschool children, but we can guarantee you that even if you are older, you can easily play them, since you are still going to get a lot of enjoynment from doing so. We know that how? Well, don't you think that we have played these Floogals Games before bringing them to you as well? Of course we did, which is why we are going to use the remaining space we have in this description to tell you more about the show and what it is about, because there are big chances that you have not heard of it before finding these games, and we are also going to tell you what kinds of games to expect from the category. Hopefully, all of the information that you find here is going to help you make the decision of giving the games a chance, because we are sure that as soon as you begin playing them, you will not want to stop. The Floogals are three very little extraterestrials, and they have come to Earth to learn about it and it's people, and as everything is new in their eyes, just like it is for preschool children, it means that watching the characters learn and explore new things will help the kids do as well, so the show does a great job at being an educational one. In each episode they reasearch a certain object, and after they have finished learning all there is about it, they send their information back to their home planet. Unlike most shows, this one combines live-action with CGI, since the setting is a live-action one, but the three little aliens are CGI, which is obvious. The three main characters are called Fleeker, who is the captain, Boomer, who is a trainee, and Flo, who is a girl, and who is the first officer. Together with the three you have a lot of fun playing Floogals Games, and if you want to know what you play with them, then you only need to read what we have next to tell you. The games on this page can range from memory games, puzzle games, or coloring games, to matching games, adventure games, or even maze games, with each new game bringing something new to the table, and there is absolutely no chance of you getting bored by trying the multitude of really amazing games this category has to offer. What you need to do is start exploring it right now, playing as many games from it as possible, because only by playing the games can you see that they are as great as we are telling you they are. After you are done playing the games, if you liked them, make sure to tell your friends as well about how awesome our online Floogals Games are, and even if you did not like these games, we still invite you all to explore the rest of our website, in order to find many, many other amazing categories we have created, each one filled with a multitude of great games, one after the other!