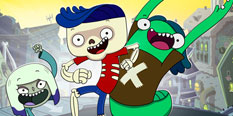 Freaktown Games
🤔 What are Freaktown Games?
This category of Freaktown Games can't be found on many other website, so we really hope that none of you will miss the chance of playing these games, which we invite you to try right now, and we are positive that you will not regret this decision even for one second!
Freaktown Games
Freaktown Games is the newest category of Cartoon Network Games/Teletoon Games, as it is airing on different channels all over the world. The important thing is not where it is airing, but that it is airing in multiple countries in the world, meaning that the show is pretty great, with the series having begun in 2016, and had one season aired. So far, there is no news of a second season, but we really hope that it is in production, and we are going to see the return of these characters on the television screens and on the internet. If you do as well, and are a fan of the show, then you should spend your time between seasons by rewatching the episodes, but even better, to have a fresh experience with this world, you should take a look at this page of Freaktown Games we have created for our website, and play the games that we have managed to add in it, all of which we recommend to all and all, since we know that you can have a great time playing them, because the fact that we had a great time playing them is what made us create this page in the first place. We have also noticed that there are currently not many websites out there that share these games with their users, and we thought that fans of the show might be disapppinted about that, so we wanted to make it easy for them to find games with their favorite characters, which is what we hope to accomplish with even more shows, to make our website as complete as possible. We have seen some episodes of the show, and really loved them, so we are sure that many share that feeling with us. For those of you who have instead not seen any episodes, but would love to learn more about this world, you are invited to read the description to the end, because from it you are going to be able to learn the plot of the series, and some details about the characters, things which we are sure are going to make you excited to play Freaktown Games even if you did not know anything about this world before. Of course, when we are done telling you about those things, we will make sure to also give you a glimpse into the world of these Freaktown Games, so you know what to expect from this series. Ben Bones is the main character whom we follow around in the show, and whose name gives it away that he is an undead skeleton. He lives in Freaktown, and together with his friends, Lenny and Priscilla, are working hard towards making sure that the place remains full of freaks and monsters, as it is under threat from Princess Boo Boo, who seeks to invade this place with cute and cuddly things. This princess is te ruler of Sweetlandia, and she is aided in her tasks by Lord Cuddles the Fluffy, her right-hand bear. Ben is the one who comes up with the strategies to defeat the princesses plans, Lenny is a mutant mantis who is shy, somtimes endearing, and can shoot sticky webs, and Priscilla is a potion princess, who can do potions and take out her eyeballs to see everything around her. Doesn't this all sound very interesting? We believe that the creators managed to create a very interesting world, and we are sure that the children who watch the show will both have fun and learn a lot of things. Now, as for Freaktown Games, our category currently includes only one game, but a very fun one, as we are talking about a puzzle game for you to solve, and puzzle solving games have always been fun, adn they get even better when they have images of some of your favorite characters in the world. We highly recommend that you try out this puzzle game, and we also hope that you are going to keep visiting our website, because the very next moment that a new game with these characters show up on the internet, our team is going to move in fast and bring it here as well, for you to have fun with it! Well, that was about everything that we had to say to you about our category of Freaktown Games, which we hope you will be visiting right here and now, and we also hope that when you are done with it's games, you are going to visit the many other categories we have created, all of which host many interesting games. You will immediately see, after a quick browse of our website, that here everyone finds games they like and enjoy playing, as on GamesZap.com the fun never seems to stop!