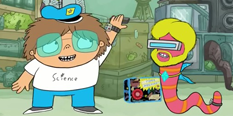 Future Worm Games
🤔 What are Future Worm Games?
You know a boy named Danny and his best friend forever and ever named Fuch who it's a worm from the future? No? You will get acquainted with them in the newst category with fresh games from Disney XD!
Future Worm Games
One of the newst and interesting category of games from GamesZap.com it's called Future Worm and it's a cateogry from Disney XD, a category that seems like Gumball at the graphics principles. I think you sould know that this tv show had another name at the beginings, and it was called Fred's Lunchbox back in 2013 when the creator of the seris announced. But from different reasons the show was delay until 2016. New Future Worm Games are added daily to our site so that you can play and have fun with the newst game from the internet. The show it's created by Ryan Quincy who it's in Disney team from 2013. The whole series it's about a boy named Danny who managed and succed to create a real time travel machine in a simple launch box, so no he travel in a different dimmension where he meets new characters like a worm from the future with whom have a lot of fun. In a poll on Wikia on the question if the telespectators and viewers are excited for the new show more than 65% are saying Yes, sou we think that the show will be very fun and apreciate. Here we want to stock for you all the new future worm games 2016 where with you friends will have a good time! Let's talk a little more about the characters from Future Worm. We are starting with the main character from a different universe, Fuch! He makes his debute in the first episode named "To The Future" where Fuch a worm from the future meets Danny and from there they become best friends forever. He have a big blonde hair, a pair of future glasses and a blue necklace. We don't know more about him, but when we will find out you will know! The main protagonist of the series it's Danny, a courageous boy who can travel in new dimmensions because we love adventure and this is the thing that made him to build the travel machine. This boy it's very funny and crazy and it's a normal student who loves maths and want to become a great scientist and solve many problems in the world. The games that are will be adding in this category will be with him and Fuch. Here we will do our best to bring the newst future games online from 2016. Here you will know many other characters and protagonists from the show like: Ash, Ben Franklin, Danny's Dad and Mum, Evyeln, Future Danny, Lava MOnster, Moseby, Orange Monster, Robo-Basketball Guy, Robo-Carp and a lot more. He hope that you will love the show and the games from Future Worm Games category. We are waiting for you each day to have more fun along us on Friv-Games-Today, the best friv games worldwide!