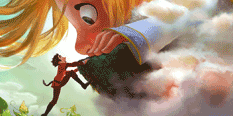 Gigantic Games
🤔 What are Gigantic Games?
In the Gigantic Games category you will be able to find all the best games based on this awesome Disney movie from 2018, which we are waiting for. Until the film is released, you can check out the Gigantic Games on this page, and you will have a lot of fun, guaranteed!
Gigantic Games
On GamesZap.com, you can be sure that great Disney Games are always added for you, and we are always trying to create as many great categories for all of you. We think that you are going to appreciate the Gigantic Games category very much, even if you do not do now, you will in 2018, when this new original animated movie from Disney Pictures is going to be released. Disney is back at it again with the adaptations of classic fairytales, and this time, they have decided to do an adaption of Jack and the Beanstalk, one of the most popular fairy tales in the world, so we are sure that audiences everywhere are going to see the movie. Of course, children will want to also play Gigantic Games after they watch the movie, and the best place for them to do that will be of course, GamesZap.com, as we are the first website to create this category. Now, at the moment of the writing of the description of the Gigantic Games category, it is only 2016, so there are not that many things that we can tell you, except for the basic premise of the film, and some things about the games that are based on the movie. Of course, we are going to update all this as soon as the release date approaces, and by that time, you will be able to find a great number of Gigantic Games on this page, for sure. There some things that are different from the original tale, like for example, the setting of the film, as it takes place in Spain, during a very special time, during the Age of Exploration, and Jack, and adventurer, has found something that even he hasn't imaged before, which is the world of giants, which is hidden in the clouds. It is there that he discovers and befriends Inma, who is a 11-year old giant, but despite her age, she is feet tall. She has a fiery personality, is very feisty. She discovers Jack, and because of his size, she thinks of him like a living doll. The two are going to have great adventures in the world of giants, where they will have to face the antagonists of the film, the evil Storm Giants, which stand at 120 feet, double the size of Inma. Now that you know the premise of the film, we can tell you that so far, you are going to be able to play two Gigantic Games, which are both very fun puzzle games, each one with it's different gameplay. We are sure that as soon as the first trailer arrives, and we come closer to the premiere, you will found this page filled with many fun and new Gigantic Games, that you are definitely going to love to play! We hope that you will check out the Gigantic Games on this page right now, hope that you have a great time playing them, which will make you want to check out all the other great games that our website offers you all!