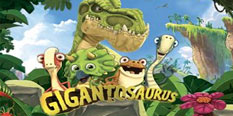 Gigantosaurus Games
🤔 What are Gigantosaurus Games?
Gigantosaurus Games is one of the best new categories of Disney Junior Games online we have brought over you here for free, where we have no doubt at all that you are going to enjoy all of these games with dinosaurs, where you will both have a great time and learn a lot o interesting things, and develop yourselves!
Gigantosaurus Games
On our website you are always going to be able to find and play the best Disney Junior Games online on the internet, as well as the latest of them, which is only true because whenever a new show starts airing on this network, and games based on it appear on the internet, we are always the first ones to share them with you, and we do that by creating categories for you to easily find those games in, and that is going to be true right now for the Gigantosaurus Games category, which you get to find for the first time on our website, where we have no doubt at all that you are in for a really awesome time. This new show about dinosaurs for children has only recently started airing on the network, will soon be going worldwide, so of course we are excited to be the first ones sharing friv games based on it with you all, games that we have no doubt in our minds you will be enjoying all the way through, just like you do with all of our games, for that matter. Dinosaurs are prehistoric creatures that are similar to lizards and birds, only many species of them were actually really large, and these animals used to live on the Earth before humans existed, and they were ultimately wiped out by a meteor that crashed here. Now, millions of years later, fossils of these creatures are being uncovered, which is how we can see how these animals were, and so many species have been identified so far. Children are really fascinated by these creatures since they do not exist in our time, but they used to, and renditions of them are really cool, presenting a world of wonder. Well, we believe that is one of the main reasons why there are so many television shows and movies made for children that feature dinosaurs, as well as lots of dinosaur games online being available for children to play with. These games with dinosaurs tend to be not only fun, but they are also educational at the same time, just like it is the case with the Gigantosaurus Games friv from our website, with this category being quite diverse and interesting, as it includes matching games, coloring games for you to explore your creativity, memory games which help you memorize faster and better, differences games that enhance your observation skills or tic tac toe games that make you a better strategizer and planner. As you can see, lots of reasons to be excited for this page, and we are sure that our Gigantosaurus Games are not going to disappoint anyone, and another thing we are positive about is the fact that more of them of other kinds are soon going to appear only, and you can bet that we are going to be the first one sharing them with you, so stick around! Now that we have already made you familiar with the games, if you are a fan of the show, hop on and start enjoying them right away, like only here you get to. In case you have never seen the show, though, and would like to know more about it before you decide to give the games a chance, we invite you to continue reading, since right here and now we will be providing you with a clear picture of this world you are about to fall in love with! The show follows four dinosaur friends who are called Mazu, Tiny, Bill, and Rocky, who go on daily adventures and have all sorts of fun, but all with a purpose, the purpose being to learn more about and find the Gigantosaurus, or Giganto, as his nickname goes, who is the biggest and most fierce of all the dinosaurs, something that the four young friends are really curious about. Who knows, maybe when they find him, they become friends and have even more fun together. Now, that was what we wanted you to know about the show, and since we have already talked about what kinds of Gigantosaurus Games you get to find and play here for free, the only thing left for you to do is actually give the games a go right away, since you have reached the end of this article. Moving forward, we hope you have a great time with all of the games on this page, and who knows, maybe when you are done playing them, the next thing you do is visit even more of our categories, because there you will be able to find even more awesome games for you to enjoy free of charge!