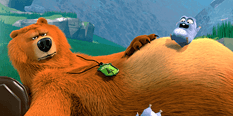 Grizzy and the Lemmings Games
🤔 What are Grizzy and the Lemmings Games?
Our administrative team is very happy to present to all of you the Grizzy and the Lemmings Games category of games, one of the latest Boomerang Games category on our website, where you are going to have a lot of fun! Just pick up any of these Grizzy and the Lemmings Games to play right now, and see for yourself!
Grizzy and the Lemmings Games
Our team here at GamesZap.com is very hard-working, because we are dedicated to improving our website as well as possible each day, by adding new games and new categories, which we want you to visit and experience, because they are each very fun and interesting. The category that we are presenting to you all on our website right this moment is the category called Grizzy and the Lemmings Games, which is the latest category of Boomerang Games added on our website, and one which you can't find on any other websites similar to our at this moment, that being one of the reasons we really wanted to add it, since we know that there must be many fans of this show wanting to play games based on it. That is because Grizzy and the Lemmings, the show that is the base for this category, is a new animated show airing on this network, for which many other networks fought very much, attesting it's quality. The fact that Boomerang started airing it on the many channels that they have all over the world makes us think that this show is popular world-wide, meaning that there must be a lot of children wanting to play Grizzy and the Lemmings Games, and now they can finally do it, only here, on GamesZap.com, the best website for online games on the entire internet, without a doubt! We immediately fell in love with the show, from the first episode of it that we have seen, so we then quickly took to the internet, where we have searched for online Grizzy and the Lemmings Games. After that, we did our best to write this description, and then add the games of the category, and by doing all of these things, we are hopeful that we have managed to bring smiles on the faces of many children who had a lot of fun playing these games. If you are not part of that group of people yet, you should not throw away this opportunity to have fun, but instead give a chance to these games, and have a really pleasant time on our website, with these really fun Grizzy and the Lemmings Games. You might not be convinced yet that you should do that, so we are now going to go into more detail about the show, and about the characters in it, and at the end, we are also going to tell you about the kind of Grizzy and the Lemmings Games you will be able to play, so we hope that after finding out all of these things, you will jump straight to playing the games and have a really awesome time! When the ranger of a natural reserve is a way, the bear, called Grizzy in this show, gets into the house, as he thinks it belongs to him, as he is at the top of the food chain of the area. While he thinks that he can enjoy all the wonders of the house by himself, that does not happen, as the Lemmings, 40 identical, cute, small, and fuzzy creatures move in as well, because they know they can have a lot of fun there. So, these two camps fight for the ownership of the house, having all sorts of adventures, and facing each other in really interesting ways, things that are depicted in the show. Who has the best tricks and strategies? The most fun ones? See the show and find out! But, if you want to have even more fun than by watching the show, you should definitely play all of the Grizzy and the Lemmings Games we have added on this page, only for you, our trusted visitor. You will play skill games where you shoot the lemmings into crates, memory matching games where you have to find the identical pairs of cards, or really fun jigsaw puzzle games for you to solve, depicting the characters. Of course, that is just the beginning of the Grizzy and the Lemmings Games category, since we are certain that as the show continues airing, more and more games based on it will be created, and the first place where you will always be able to find them is going to be our website, of course! What is there to wait for? We gladly invite each of you to start enjoying these games right now, picking any of the Grizzy and the Lemmings Games on this page to start, because we are sure you will just continue playing the other ones as well, and the fun will never stop! When you are done with the games from this category, you can just browse our website, because you will find many, many other fun categories, our website being full of amazing free games!