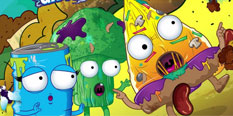 Grossery Gang Games
🤔 What are Grossery Gang Games?
Come and play the best Grossery Gang Games on the internet right here and now, only on our website, where fun is guaranteed with each awesome category of games you can see here, and this one has plenty of fun to offer as well, so do not hesitate to give it a go!
Grossery Gang Games
Grossery Gang Games is a category of Cartoon Network Games we are very happy we have created for our website, since we know that there are not too many websites out there that offer such games at the moment, but we wanted to have this series in order to make sure that our website still remains a diverse and interesting one, which is what we are trying to accomplish here every day, which is why each day that you come and visit our website you get to find so many extraordinaril new and fun games. In order for that to be a reality, we have to create categories of games, so we decided to look a little bit into television shows that are aired outside the US, where there are other English-speaking countries, because we are sure that those countries have some of their own animated series which americans might never have heard of, but the games that are based on them are fun. We want to be able to provide these games for both the fans of the shows, but for the newcomers as well, because we believe that you can play any game on our website, even if you have no clue about the series it is based on. The same can definitely also be said of Grossery Gang Games, which is based on a show airing on Cartoon Network in Australia, and maybe other countries as well, and since we have seen that there are no less than three games currently available in this series, we knew the category had to be created, and these games shared with all of you. Now, of course, that means that some of you have no idea what this show is about, so let us use the remaining space we have in this description in order to tell you the premise of the show and some details about the characters, and when we are done with that we are also going to explore into the online Grossery Gang Games that we have on this page, since that is the main attraction of this page. Well, the action of the show takes place in Yucky Mart, where all of the produce is rotten and not good for eating. Still, these legumes and fruits have life, and they are the main characters in the show, where we see all kinds of adventures that they have in their day-to-day life. Shoccoli is the brain of the gang, who is always inventing something new and crazy, and scavaging the shop for objects. Putrid Pizza is the leader of the gang, always looking for more adventures to have. Dodgey Donut only wants to party all the time, but you want to have him on your side when in trouble. Rotten Egg is the youngest in the group, always trying to catch up to his peers. Sticky Soda is as acidic as her sarcasm to those around her is. Fungus Fries is happy all the time, but also is very spontaneous, so he often times ruins the plans of the gang. These are the wacky characters with whom you are going to interact in the Grossery Gang Games category, which so far contains three games, which are called as follows: Clean Team Clash, Slushie Storm, Shelf Relay. Of course, before adding them to our website we made sure to have played them all, so it is from experience when we tell you that each of them is worth your time, and you are going to have simply a blast playing them all. Of course, we could tell you more about each of them, but we let you go to their pages, where you also have descriptions from which you can learn anything you need to know, so that you play each of the games with no problems at all, but to a really fine job. Well, that was about everything that we wanted to tell you about this newly-created category of Grossery Gang Games, so what is left for us to do is to invite you once more to try the games, because if you wait too much to play them, you will regret it! Don't also hesitate to tell your friends about this category and about our entire website, since they will surely appreciate coming here and being able to find awesome games to play, as we have hundreds of awesome categories, and thousands of amazing games, all of which we highly recommend. You can also share our website on social media. When you are done with these games, visit the many other categories besides Grossery Gang Games that we have on our website, and we are sure that in the matter of seconds you will find something new and awesome to play and have fun with!