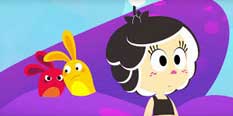 Hanazuki Games
🤔 What are Hanazuki Games?
It is only on our website that you get to find and play Hanazuki Games, which is a category of games which so far can only be found here, so take advantage of the fact that you are here, and try the games out, since we have no doubt at all you will have no regrets in doing so!
Hanazuki Games
Hanazuki Games, or Hanazuki Full of Treasures Games is yet another fantastic category of games created for GamesZap.com, and not only that, but it is a category of games which has first been created on our website, meaning nowhere else can you find Hanazuki Games, at least at the moment of the writing, as we have made sure that we were the first ones to create the category. As you know from prior categories, here on our website we always do our best to make sure that we have as many diverse categories as possible, so we look towards all sorts of content for inspiration. In these days, if you have a show, you do not necessarily need to go to a television network, since the internet is a great platform to share your work on, which is what happened with Hanazuki: Full of Treasures, which is an animated series based on a series of toys from Hasbro, which found it's home on Youtube, where it is without a doubt one of the most watched children's shows, with fans from all over the world. Well, up until we created the Hanazuki Games category, these fans did not have the chance to play games with their favorite characters, so of course we are happy that we got to offer them these games, just like we are sure that we have made the fans of the show really happy, since they can finally play together with these characters! A second season is set to air in 2017, a third season is also going to be produced, and not only that, but a feature-film has been announced as well, meaning the franchise is really picking up, and it is going to stay with us for quite some time. We are glad, becasue that also means that in time, more and more online Hanazuki Games are going to show up, games which you will certainly be able to find first on our website, because we are always making sure to be up to date with the world of online games. Now, although the reach of this show is pretty big, we have no doubt that not all of you currently on this page have heard about this show or seen it, so we invite you to keep on reading this description, because from it you are going to be able to learn what the show is about, and when we are done with that, we are also going to tell you what kinds of games we currently have on this page. The show is set in a fictional galaxy, where Big Bad is a cloud that drains the life and colour from anything it touches. The galaxy is protected by Moonflowers, plant-like children who use their emotional states to save the places that have been affected by the Big Bad. Hanazuki, the title character, is a newly-born Moonflower, so of course, in the first episodes of the show, we see Hanazuki learning about her job as a moonflower, so that she can become better and better at bringing joy to the moons she travels to. Of course, there are moonflowers which have failed to save their moon, and Hanazuki gets to meet them in the show, and help them do their jobs better. As you can tell from this short description that we have given you about the show, it is focused on teaching children about their moods and feelings, so as they get better in touch with them, which is very important for children to learn, and it is quite difficult for many of them, so it is very important that such a show exists. Hanazku Mood Tracker is the name of the first ever game we have added in the category, and it is a quiz game which allows you to find out what your mood is today, depending on how you answer the questions that you are given. Doesn't it sound really interesting? Well, it certainly is, and in the future, we are going to make sure that all sorts of new games are going to be added to this page, games which you will hopefully find and play, and have a great time doing so. Well, now that we have put you up to date with the show and the category, even if you had no prior knowledge about it before reading this description, you should now definitely check out these Hanazuki Games, and do not forget to tell us in the comments what you think about each of them. When you are done playing Hanazuki Games, remember that our website has hundreds of categories, each one more fun than the other one, so you are definitely going to be able to find games to your liking, with just a quick search.