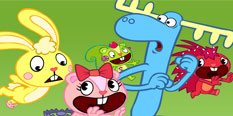 Happy Tree Friends Games
🤔 What are Happy Tree Friends Games?
Only on Friv Games Today you can now find and play the best new Happy Tree Friends Games on the internet, so do it right now, enjoy, and don't leave anywhere, since we're sure you are going to love all that you find on this page of action games!
Happy Tree Friends Games
While we are aware that the Happy Tree Friends is not generally targeted towards children, despite being an animated series, we've played online Happy Tree Friends Games and found them to be awesome, so we really could not stay away from creating this category for Friv Games Today as well, since we are confident that we can create the best place for fans of this series to have fun with their favorite characters, and even if that is not the case, you should still give them a chance! Why? Well, because just like all our series, this one is well-developed too, and there is no better place for you to play games with Happy Tree Friends. Let's use this article to give you a better look towards the varied world of this show, maybe give you some information on the characters, and then you will also be able to find out what kinds of games you find and play here for free, and we're sure that when you are done reading this you will be able to have a tremendous time like always! Like most animated shows, this one also features animals that behave like humans in a world that is similar to ours, only the antics of these characters often make them end up in causing a lot of harm to themselves, getting injured all the time, losing limbs, blood gushing everywhere, and sometimes they even die, so you can see why it is not appropriate for children. Of course, this also means that some of the Happy Tree Friends Games available here can also get quite violent, and you can find them in the form of running and jumping games, action-adventure games, racing games, obstacle course games, and many more, all of which exciting in their way. Characters from this show include Cuddles, a yellow rabbit who is friendly and caring most of the time, Giggles, a pink chipmunk and usually gets crushed, Lumpy is a blue moose who is quite stupid which oftentimes causes the death or injury of other characters around him, or Toothy, a beaver with large teeth who loves monster movies. One of the reasons this show is mistaken for one for children is often because these characters are animated just like in a kid's show, and they were made to be even cuter. While some of the games here are quite family-friendly, not all of them are recommended for young kids, so do not hesitate to read the article for each game before playing it, so that you learn what you need to know about how the games work and what content they have in them. Other than that, we believe we've given you quite a good glimpse into the world of these Happy Tree Friends Games online of our website, so nothing should be holding you back right now from enjoying them right away, and having fun on our website like only with our amazing games you could!