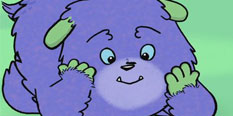 Humf Games
🤔 What are Humf Games?
Humf Games is a brilliant category of Nick Jr Games we are very happy to be sharing with you all on our website, so come quickly and browse the category, try out any of it's games, and have fun like only here it is possible to have, since only on www.GamesZap.com you get to find such a multitude of brilliant games for you to play!
Humf Games
We want to welcome everyone right now into the Humf Games category, whichis the newest category of Nick Jr Games we are delighted to be sharing with you all, since the creation of it means that our website is now even stronger and better than before, since there are brand new games in it, games which we all definitely recommend, and with which if we have had fun with, and quite a lot, we have no doubt at all that you are not going to have as well, since that is usually the case with our games, as they are not added to our website only if they past the test of us having fun with them. The main reason why you all come back to our website as often as you do is certainly because you are enjoying these games we share with you, and so we are going to stick with our methods for a long time, considering how successful they are! We have also recently been in a process of expanding our website past the American territory, meaning that we have been creating categories for shows that are not necessarity airing in the United States, but they do in other English-speaking countries in the world, and even from those that do not speak English, because we want to be as global and inclusive as possible, and these games are certainly a way to make that happen. We also like to offer games for children of all ages, which is why, just like with the Humf Games category, we have been looking at preschool children's series, which sometimes have the best games ever in them. Humf Games is such a category, as it is aimed primarily towards preschool children, but at the same time, it is also an animated series that comes from Britain, but which we know has made it's way in other countries as well, so no doubt at all it has gathered many fans, especially since it has been on the air for quite a few years now. For those of you who are not at all familiar with this world, but would like to know what the show is about, who are the characters in it, and what kinds of online free Humf Games you will find and play here, then we invite you to continue reading this description to the end, from which you will learn all of these things, and if at the beginning of it you were not convinced entirely that you want to play these games, you will certainly wish so after reading this in it's entirety! Obviously, the main character of the show is Humf, who is a furry creature, colorful, and with a very interesting and unique design. Like with most show of this kind, this one also follows it's title character, who is very curious by nature, and likes to learn all sorts about the world around him. He does that in each episode, together with his family and friends, with whom he has all sorts of awesome adventures, adventures at the end of which not only the characters, but the viewers of the show will have learned a lot, and all the while having fun, so that we believe to be quite a great deal! As for Humf Games, for the start of this series we have three of them, called Where is Humf, Playtime with Humf, and Humf's Garden. We have already played with all three, had a lot of fun, so we have no doubt at all that the same is going to be true for you, no matter what your tastes in online games usually are! Since we have now told you everything that we wanted you to know about this series, the only thing that remains for you to do is to start playing these games at once, and have fun like only with them is possible. Remember afterwards that this is a really big website, and if you keep browsing, you are going to find many more great games to play, all of which we are positive you are going to enjoy, as there is no way that you can stop having fun on our website. Remember to invite all of your friends here as well, not only for Humf Games, but for the thousands of other brilliant games we can share with you, all recommended, and hopefully they are going to stay with us for years to come, and slowly build a great family of fans of online gaming. Remember to come back to our website daily, since that is the only way that you are going to be able to stay up to date with all of the new and brilliant games we have to offer, which you will want to do!