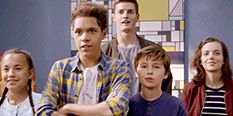 Hunter Street Games
🤔 What are Hunter Street Games?
Now on www.GamesZap.com you can find the Hunter Street Games category, a new category of Nickelodeon Games which you should not miss out on for anything in the world! We guarantee you are going to have an amazing time playing these Hunter Street Games, so start doing so right now, and don't look back!
Hunter Street Games
Welcome to the page of the Hunter Street Games category, which is one of the newest categories of Nickelodeon Games that we have created for our website, which we have done so because on March 11, this new series has begun airing on Nickelodeon, and we wanted to be the first website to create the category and bring games in it to you all, which is something we regularly do when it comes to new series, which means that our website is truly the best place to visit if you want to play the newest games on the internet. We want to make our website filled with as many wonderful games as possible, and the fact that Nickelodeon keeps creating these amazing new series all of the time makes it easier for that purpose to become reality, because if they churn out high-quality series, then that means that there are also high-quality games that surface on the internet, based upon those shows, and we always make sure to be the first ones to bring them to you. Really awesome, don't you think? Well, we certainly hope that the Hunter Street Games category is going to become a top category of games on our website, and that you are really going to love all of the games that we add in it, and have an overall amazing time on our website. Of course, if you have already become a fan of the series, just a week after it has begun airing, then you must definitely love this category and be excited about the fact that you can finally play online Hunter Street Games for free. For the rest of you, who might not even have heard about this series before coming to this page, we invite you to stay, because you are going to find wonderful things here, and we are sure that you are going to be able to enjoy playing these games, even if you do not know the universe. If that is the case, but you want to learn more about this show, then all you have to do is keep reading the description we have written here, because up next we are going to tell you some things about this show, the characters in it, and of course, we are also going to talk about what kinds of Hunter Street Games you are able to find and play on our website, games we have no doubt at all that you will enjoy a lot. We are going to begin with the plot, go on to the characters, and finish with the Hunter Street Games, so pay a lot of attention to everything! The show follows the Hunter family, which has just welcomed a new foster kid, Max, who is one of the main characters. His step-siblings are called Tess, Daniel, Sal, and Anika. Well, soon after the adoption of Max, their amazing foster parents, who have been taking really good care of them seem to disappear. That means that their family could be broken apart, and the children separated, so they have to unite in order to do their best and unravel the mystery of their parent's disappearance. Of course, in addition to becoming some kind of detectives, they also have to learn how to live on their own, which only makes the show more interesting, fun, and educational for it's viewers. Yes, they might be of different ages, and really different personalities, but the Hunter Kids will stay united, and they are going to do their best to make sure that remains the case. Don't you find the premise really interesting? Well, we certainly do, and we are sure that this is going to make you interested in what kinds of Hunter Street Games you are able to find on this page. Well, so far, at the moment we have written this description, we offer you a really awesome interactive game where you try to solve mysteries together with the gang. Don't miss it! We are sure that in time, as the series keeps bringing out new episodes, more new and interesting games are going to be added on this page, and be sure that the best place you will be able to find them is going to be our website, where you will always find them first! Well, we think we have said enough about this amazing category, which means that it is now your turn to try out these games, and have a time as great as possible, like you can only do on our website. Don't forget to also tell all of your friends that on GamesZap.com they get the chance to find and play Hunter Street Games like nowhere else, because we are sure that they also want to have a lot of fun with them!