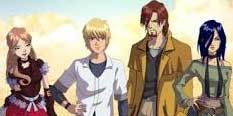 Huntik Games
🤔 What are Huntik Games?
Come and play the best Huntik Games on the internet, as we have made sure to gather them all on this page, and we have had a lot of fun playing them, so we have no doubt at all that the same is probably going to be the case with you!
Huntik Games
You are now on the page of the Huntik Games category on our website, which is a category we have created because we have found some really interesting games based upon this animated series, and although it is off the air and not many of you might be familiar with it, we still believe that you can have fun playing the games that we have added here, so we think that creating the category has been the right decision for us to take. We think that our website will be even better if we have games based on older shows in addition to those based on the latest one, because that makes our content more diverse, and when it comes to online games, it really does not matter how old a game is, or whether or not the series it is based on is relevant any more, since you can easily enjoy those games still, so we are really glad for adding Huntik Games on our website. Also, we have seen that the show is streamed on Netflix, so it would not be surprising at all for children to still find it, in addition to the fact that it is still airing in many countries all over the world. The series began in 2009 and finished in 2012, running for two seasons with a total of 52 episodes. We are sure that most of you who now find yourself on this page of Huntik Games have probably never seen the show before, and are wondering why you should give these games a go? Well, if you continue reading this description, you are going to find your answer, because in it we are now going to tell you what the show is about, who are the characters in it, and when we are done with that we are going to tell you what kinds of Huntik Games you will be able to find on this page, and something tells us that you will appreciate them, since we clearly had a great time playing each and every game from this page. Lok Lambert is the main character in the series, who is in pursuit of his missing father, who was a part of the Huntik Foundation, and a part of a secret world of magic. The show follows Lok and his friends in the first season battling an evil organization ruled by a Seeker known as the Professor, who is seeking the legendary titans. Despite getting in his hands, the Huntik team manages to defeat him. Luk is concentrated on becoming a great Seeker just like his father was, and he is very good at solving puzzles, which is an ability which certainly helps him a lot in this matter. The other main characters from the show are Sophie, a book-smart girl, and Dante, the leader of the team and the best seeker in the Huntik foundation. Like you could tell from everything that we have written up until this point, the show has all sorts of magical and fantastical elements, which make for a really interesting universe and story, so we think that you can't get bored watching the adventures of these characters. You also cannot get bored by playing Huntik Games as well, since the category includes some really high-quality games, like puzzle games, hidden objects games, or strategy games, and we simply recommend each and every one, as we have no doubt at all you will find them all really enjoyable. Of course, whenever any new games based upon this series are going to show up on the internet, our administrative team will make sure that we will have these games as soon as possible, proving once again why our website should be the first place that you always visit when you look for the best new online games on the internet! Now that we have told you everything that we wanted to about this category, the only thing remaining for you all to do is to start playing the games immediately, because reading about them is not enough, as you should really enjoy them by playing them. If you have friends who are also searching for great online games to play, do not hesitate to direct them towards our website, since we are positive that they will like not only these games, but many of the other categories that we have, since we have made sure to have as much awesome content as possible! Do not hesitate to also share these pages with your friends on Facebook or other social media, and spread the word about our great games! We really hope we have made many of you happy with the creation of this category of Huntik Games, so we invite you once more to start playing them, and let the fun begin!