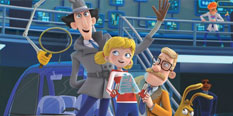 Inspector Gadget Games
🤔 What are Inspector Gadget Games?
You now find yourself on the Inspector Gadget Games category, which is a category we are very happy we have here, since it includes some of the most fun games on this website, so no more wasting time, but start playing them at once, and have fun like we believe it is possible to have only here!
Inspector Gadget Games
We now want to welcome each and every one of you over to the Inspector Gadget Games category of our website, which is one of the newest category of Boomerang Games we are very happy to have created for our website, since we believe that we can bring you lots and lots of fun and interesting new games in it, all of them recommended, because if we did not think that these games were worth your time, we don't think we would have brought them over in the first place, and that's for sure! We know that Inspector Gadget is one of the most popular characters in the world, and he has been around now for decades, which means that there is no way at all that you are not familiar with these characters, which is why we believe that Inspector Gadget Games are going to draw in both younger and older children. While the original series started way back in 1983, this category is dedicated towards the newer series, the one that started in 2015, and is still running, with four seasons having been produced so far, and something telling us that more of them are going to come as well. The show airs on Boomerang in Europe, it is aired by Teletoon in Canada, and premiered on Universal Kids in the States, meaning that people from all over the world must be interested in playing friv Inspector Gadget Games, and we want to be able to satisfy their needs, since we want to make sure our website is as welcoming and as fun for everyone. There has never been a time where you searched for games on our website and did not find them, that we are sure of! Now, if you are already familiar with these characters, we are sure that nothing is going to stop you from starting to play these games at once and to have fun like it is possible only on our website. On the other hand, if you are not, you might be wondering what this is all about, and want to know more before you give these Inspector Gadget Games a chance, so for that we invite you to continue reading this description to the end, because from it you will be able to learn all about what the show is about, after which we also tell you what kinds of free games you will be able to find and play here. Dr. Claw, the villain of this show breaks out of his cage and reactivates M.A.D, which is the villain organization that does bad things in this world, so Inspector Gadget must come out of retirement, as he is the only one that can stop these villains. Of course, he is not alone in this journey, as he is joined by Penny and Brian, this time officially his side-kicks. Talon is Dr. Claw's nephew, a new character for the series, for whom Penny as a little bit of infatuation. Unlike the first series, this one presents things a little more comical and slapsticky, with the villains not being as threatening, and Gadget being even more clumsy than before. If you do not know how he is, Gadget is a former inspector, who, because of an accident, had to become a cyborg, meaning that he is part human, part machine. This can be quite helpful sometimes since he is equipped with all sorts of gadgets that help him in his missions, which is where his name and the title of the show comes from. Really interesting, right? Now, it is time to tell you more about what kinds of Inspector Gadget Games you get to play here, so let's pay attention, ok? The series is going to include action games, adventure games, spy games, skill games, coloring games, memory games, matching games, puzzle games, and even dentist games if you would imagine. As you can see, it is quite a diverse page, and we are positive that you are going to be able to find one awesome game after the other here, so start browsing this page right now, and see it for yourself! We don't have anything else to tell you regarding this series, so the only thing left to do is to start playing our games at once, and to have fun like only here is possible! We hope you stick around as well, since Inspector Gadget Games is only one of the hundreds of categories we have here, so if you want to keep having fun, keep on browsing our website, and in no time at all you will find something new and awesome to play!