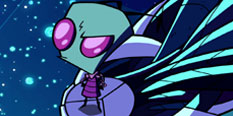 Invader Zim Games
🤔 What are Invader Zim Games?
Invader Zim Games is a category of Nickelodeon Games where we invite you right now to have a lot of fun with one awesome game after the other, in an incredible adventure with aliens, robots, and a mission of saving the world!
Invader Zim Games
It is with great excitement that we now find you all in the Invader Zim Games category of our website, this new page of Nickelodeon Games online where we have no doubt at all that all of you are in for a really great time from start to finish, with each and every new game that we will bring you here, especially since Netflix managed to bring back these characters to popularity thanks to its new movie sequel based on the franchise, a movie called Invader Zim: Enter the Florpus, whose release also made developers create some new games with Invader Zim online, games that we are now happy to say we can provide you with, and you really should not be looking anywhere else for them, since you're in the best place for playing these games! At the center of the series is Zim, an alien who comes from a planet named Irk, who comes to our home planet of Earth to take over it, becoming its ruler, and enslave us all together with his robot called GIR, who malfunctions quite a lot. Of course, there are people on our planet who are here to stop him with his main enemy being Dib, a young investigator of the paranormal, who will do anything to stop Zim from achieving his plan. With such a premise, there are plenty of comedic moments in the adventures of the characters, which is why we believe this show has been so memorable. The movie sees the return of Zim and GIR on Earth, who have waited a long time in hiding so that Dib can become physically unfit to fight them and so begin their Phase 2 in their plan, although they forgot what the plan entails. Of course, Dib will still not stop at anything from proving everyone that aliens are real, and Zim is a threat that needs to get exposed, resulting in a fantastic adventure movie for children and adults alike. Zim is a little green man, even shorter than most other aliens in his race, with red eyes and antennae. Zim is quite brash in his actions, quite an arrogant alien, even by Irken standards, who loves himself and congratulates himself for even small accomplishments, and one thing that is always true is that he wants to create distractions. Gir is a robot that resembles Zim a lot, who has a carefree attitude, is very hyperactive, would eat almost anything, and he quite likes it on Earth, and loves to watch TV. Dib is twelve-years-old, is very intelligent, just like his professor's father, is very skillful, and does everything he can to stop the invader alien, considering himself the only one who can be a savior. Unfortunately for you, the series does not have many Invader Zim Games online for you to check out at the moment, but the one we do have is amazing, a game called Invader Zim Doom, where the alien and his robot friend need your help in accomplishing all of their missions and getting closer to conquering the Earth. Anyway, even if there is just one game at the moment, trust us when we say that it really is worth your time to play it, and you should definitely be coming back to our website as often as possible, since you can't really know when new friv Invader Zim Games will be added, and it really could be any time! That's about everything we wanted you to know regarding this new category of Nickelodeon Games with Invader Zim, so we hope that the first thing you do right now gives the games here a chance and enjoy them plenty. Do not stop here either, as we've got hundreds of other amazing categories waiting here for you, all filled with other amazing and fun games, and playing them should be an absolute must if you want to not stop having fun on Friv Games Today!