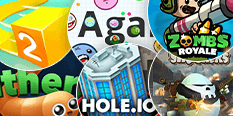 Io Games
🤔 What are Io Games?
If you want the best multiplayer experience on the internet at the moment, playing IO Games for free here is the way to go, having an unlimited world of fun waiting for you, with players from all over the world as well!
📂 Related Categories
Io Games
If, in the past, multiplayer gaming meant going out to an arcade and using the same machine to play against one another, or going to a friend's house that had a gaming console with two gamepads, all that movement, and in-person interaction is no longer necessary. While it is true that these activities had a lot of fun stuff going on for them, one disadvantage was the range that you could play, as you were limited to people around you.

Now that the internet is widely available, that is no longer the case, and children and adults as well who are passionate about gaming can face off against one another in some of the best multiplayer games online, which can be played on consoles, personal computers, mobile platforms, and, like the free Multiplayer Games we have, in your browsers. Yes, we've had games that you can play in two for a long time, but games where you actively played against people on other computers have become the norm recently.

Of course, this has been all thanks to the powerful servers we can now use, and the technology that makes browser games more and more akin to premium video games. In the world of multiplayer games for children, there has been a recent trend of IO Games, with them, have even become the norm, with more and more of these games appearing on the internet day after day, and considering how popular they are, we are sure they will stick around for a long time.

That is why this category has been created so that all these apps that appear and are really awesome can be easily found on our website, and they can be separated from the normal multiplayer games. We're sure that this format or genre is still a question mark for many of you since it is something new, so let's dive deeper into this world here and now, after which you should be able to be familiar with the world of Io Multiplayer Games, and want to be in it for as long as possible!

The meaning of '.IO'
If you have basic knowledge of how the internet works, you probably already realized that .Io comes is a domain name, one that is assigned to the Indian Ocean territory, which is why it is abbreviated as such. Because the two letters stand for input and output, a lot of websites or companies that are associated with technology want to have it for their domain, since it makes sense.

Thanks to the fact that .IO domains are new and are not that occupied, they are a lot more available, and we believe that is one of the main reasons so many video games online have decided to use it, and they are also very good for making wordplays for games, which makes games more attractive and interesting, prompting more people to try them out.

Io Games Multiplayer
As we believe we've already mentioned, Io Games online heavily rely on the multiplayer aspect, and we believe that only a very few of them are single-player games. For most of the, in the first menu, you enter the name that you want to be known as, you select the server on which you play, one for each continent, you have a help section where you can learn the basics of the game and how it works, as well as the current rankings.

Other things specific to them are menus of customizing your character, where you can use the earnings from the game to upgrade the look, stats, or inventory of your character or avatar, and you can go to the shop to buy all of these things. If you want to change the appearance of the game, check out the settings menu. In some of them, multiple skins are available for your avatar, and more of them get unlocked as you keep winning and playing!
Everything has a beginning, so, obviously, there had to be a game that popularized this genre all over the world and started off all of this craziness, no? Well, there is, and it is called Agar.io, one of the biggest MMO browser games of the moment, with a lot of games, have been a spin-off from them, and we're now going to talk a little bit about the most popular ones of the moment, which we also here free for you so that you can start experiencing this page with the best it has to offer!
Io Shooting Games are probably the second-most encountered type of game in this category, where you enter maps and arenas with players world-wide, all-controlling avatars that have guns, and you use the guns to shoot down the other players and be the last one standing. They can be simple multiplayer shooting games, or io games battle royale, with a format we've already talked about. Some games that have made a name for themselves here include the Gun Battle Games, with great designs for their characters, and each battle having interesting new maps, SquaddRoyale, which is one of the best Fortnite-inspired games here, or Krunker Io, with a very interesting pixelated world.

You can also find Io Racing Games, where, instead of shooting or eating the other players, you simply have to be faster than them and reach the finish line first, with the racing being done with cars, motorcycles, or just simply running. Try Racegame.io and see how great multiplayer racing games are. Or, if you want to fly through the skies, SkyArena.io is a game where you fly airplanes against other people.

Io Games with zombies have also become very popular, where players usually have to co-operate and work together in defeating the zombies, and sometimes they have to take out other players too, meaning there are more enemies you have to face off against. Brains.io is probably the most popular one of this kind, with other honorable mentions including ZombsRoyale.io, or Zombs Royale Unblocked.

Spaceships and space battles have always been of great interest to children and adults alike, with the Star Wars movies being proof enough of that, so we're not at all surprised that there have been so many Io games space created over time. In them, you control a spaceship and use it to shoot down the other spaceships or collect space debris and items to grow bigger. If that seems interesting to you, try StarBlast.io, or the straightforward War in Space.

Trust us when we say, but the possibilities are endless. You can become a pirate and sail the seas, or become a piranha fish and eat smaller fish than you. Enter a multiplayer snow fight game and throw snowballs at your opponents. Become a superhero in a world inspired by comic books, or play io fighting games online where you get to fight one against another in sumo or other martial arts. In some of the games, the competition takes place on the beach, in a boxing ring, or you create your robot to fight other robots.

There are also more simple formats such as io board games online, where you can play Monopoly against your friends in real-time, all from your homes, play games where you have to fill the maps with more color than the colors of your opponents, or play guess and draw games multiplayer, where one player draws something and the others have to guess what it is.

There is a reason why this is one of the biggest categories you can currently find on our website, so start exploring it right now, and see all of the fun that it has to offer, and invite your friends to play the same game as you are playing since it is fun to go against other players and enemies, but it is fun to also know you have friends backing you up and you are experiencing the same thing together.