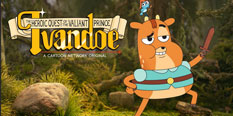 Ivandoe Games
🤔 What are Ivandoe Games?
Ivandoe Games, or The Heroic Quest of the Valiant Prince Ivandoe Games is one of the newest and best categories of Cartoon Network Games added by our administrative team, which we highly recommend to you all, and we hope that you will play these games right now, as currently you get to find them only on our website!
Ivandoe Games
Ivandoe Games, or The Heroic Quest of the Valiant Prince Ivandoe Games is the name of the latest category of Cartoon Network Games we have created for our website, which is based upon the animated show of the same name which has begun airing on Cartoon Network all over Europe at the start of 2018, and it is also going to air in the United States sometime this year as well, and it is poised to become one of the best new shows airing on this network, and just like with all games based upon Cartoon Network shows, we have no doubt at all that these Ivandoe Games are also going to become extremely popular, and the best place that you will get to find and play them is going to be without a doubt our website, since we are proud to say that we have been the first website to create this category, and not only that, but to also share The Heroic Quest of the Valiant Prince Ivandoe Games with you all as well, so we are once again proving why GamesZap.com should be your go-to website when it comes to online gaming, because it is only here that you will get to find the latest and best content on the internet! We wasted no time at all in creating this series, and we are sure that in the future, whenever new games based upon the show are going to come out, we will be the first ones to share them with you, and that we are also going to create original content for the page as well, since we like to offer original games for you all to play. Now, like it is usually the case with new series, we are aware that not everyone is aware of it, which is why we create descriptions such as this one, where up next you are going to be able to learn about what the show is all about, who are the characters in it, and of course, when we are done with that, we are also going to tell you what kinds of Ivandoe Games you will be able to find and play on this page, and we are sure that reading all of these things is going to make you want to play the games 100%, and that you are going to have a brilliant time doing so, just like we did! Ivandoe is the name of the main character whose adventures we follow in this show, who is a young prince of the forest, with his father being The Mighty Stag. The Mighty Stag sends his son on a quest to find the magical Golden Feather of the fearsome Eagle King. On his journey, our main character is not going to be alone, because as a prince, he has a squire, who is called Bert, with him being a small bird. He might be small, but he is dedicated, and really brave as well. Along their way of achieving the goal they set out for, the two meet all sorts of peculiar creatures and characters, and have all sorts of amazing and interesting adventures, which are going to be delightful for children to watch on-screen in this cartoon. Of course, it is going to be even better when they take part themselves in their favorite character's adventures, which they get to do only by playing Ivandoe Games on our website, with the first game being an adventure game where all sorts of challenges await you. Of course, this is just the game with which we started this series, as we expect plenty of other types of games to be added here in the future, like puzzle games, coloring games, or matching games for example, with this category becoming more diverse, and in turn, becoming better and more fun. Well, something tells us that reading all of this that we have written so far has definitely made you interested in this category, and since there should be nothing standing in your way, we invite you right now to play the games, and have fun like you have never had before, guaranteed! When you are done, make sure to check out the many other categories of games we are very happy we have on our website, hundreds of them, like Cartoon Network Games for example, where there are plenty of similar games. Of course, do not forget to also tell all of your friends about our category of Ivandoe Games, since they might have no idea about it, and it would be a real shame if they do not get the chance to also play these games and have fun, don't you agree? Well, we are now going to let you play the games yourself, have fun, and a great time possible only on our website!