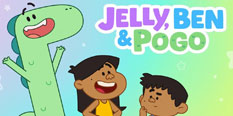 Jelly Ben and Pogo Games
💡 Play similar online games!
🤔 What are Jelly Ben and Pogo Games?
Play Jelly Ben and Pogo Games online for free to learn more about the Filipino peoples while having fun!
📂 Related Categories

Hero Elementary
Jelly Ben and Pogo Games
Jelly Ben and Pogo Games joins the big family of games based on PBS Kids shows that we already have here, and we're absolutely sure that just like we think that the games based on this new show on the network, one of its latest, are worth giving a look too, you will also think the same as if you've been a visitor of our website for a long time because you can never go wrong with the content we share with you here!
See just how fun Jelly Ben and Pogo Games online are here and now!
Who are these characters? Jelly and Ben are siblings from a Filipino family that has immigrated to the United States of America, and Pogo is also from another place, but he is more special, as he is a green sea monster that wants to learn the ways of the people living above water.
Through the episodes of the show, which are short, you will learn more about Filipino culture, such as their food, customs, holidays, family relationships, faith, and much more!
The same can be said of the games with Jelly Ben and Pogo we bring you here, with the category's first addition being called Super Duper Halo-Halo, as Halo-Halo is a traditional ice cream dessert from this country, which is quite hot, so it makes sense that they would make something to cool them down.
Of course, this is just the beginning of this series, and you can be guaranteed that we will be the first ones sharing the new games based on it here with you, so stick around, you don't want to be missing out on any of them!